Here's How You Can Help Hurricane Ian Survivors Right Now

Hurricane Ian ripped through southwest Florida earlier this week, leaving a path of destruction in its wake. Flooded homes, destroyed businesses, power outages, and winds that got up to a mighty 150 mph made Ian out to be one of the worst storms to ever hit the United States. Though Hurricane Ian has now been scaled down to a tropical storm, it's still making its way through Florida toward the Atlantic coast and likely will impact other states along the way.
Currently, more than 2.5 million Floridians are without power across the state, according to CNN, and so far, at least seven people have been reported dead. Many residents who survived have been left with little to nothing.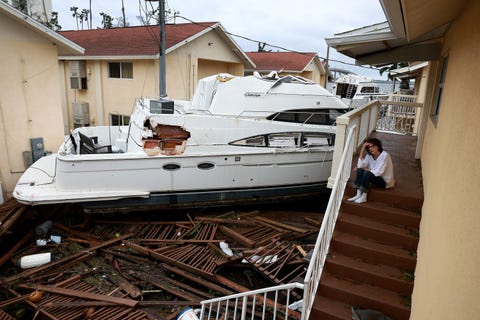 "We've never seen storm surge of this magnitude," said Florida Governor Ron DeSantis in a a press conference, according to the Associated Press. "The amount of water that's been rising, and will likely continue to rise today even as the storm is passing, is basically a 500-year flooding event."
Puerto Rico, Cuba, and the Dominican Republic were also impacted by the storm, after enduring Hurricane Fiona not even two weeks ago.
From cash assistance to food prep, and delivery to repairing homes, here are just a few ways that you can help those who have survived Hurricane Ian and are in severe need.
Florida Disaster Fund
Florida has a state relief fund that you can easily text to make a donation. Just grab your phone and text "disaster" to 20222. To be clear, the pressing need here is mostly time or funds. "Make a donation or donate your time, but don't send a lot of stuff," said Florida Governor Ron DeSantis, per the Tampa Bay Times.
World Central Kitchen
World Central Kitchen has been helping in Puerto Rico since Hurricane Fiona touched down almost two weeks ago. The organization preps and serves fresh, hot food to those in need throughout all the entire island, as well as the Dominican Republic, Turks and Caicos, Bermuda, and Nova Scotia, Canada, which were all impacted by Fiona. Donating is super easy, and you can even use PayPal or Venmo.
Hispanic Federation
Similar to World Central Kitchen, the Hispanic Federation has had boots on the ground in Puerto Rico since Hurricane Fiona but has continued their work in the Dominican Republic recently too. The organization has been helping in Puerto Rico since Hurricane Maria devastated the island five years ago and has been working tirelessly to provide and restore food supplies, housing, renewable energy, businesses, and more. Donate here.
CARE
The Cooperative for Assistance and Relief Everywhere (CARE) is helping Florida families with immediate and basic necessities like food, water, and shelter. They are also providing those in need with emergency cash assistance. Donate here.
Convoy of Hope

Members of Convoy of Hope travel to devastated areas to provide survivors with food and other needs. Once they arrive to the scene, workers set up distribution points to start tending to people. To learn more and make a donation, head here.
PRxPR Relief and Rebuild Fund
Every single dollar donated to the PRxPR Relief and Rebuild Fund goes to those in need. The group primarily focuses on providing clean water, food, and renewable resources. All donations will go to providing hurricane relief in partnership with other local organizations.
Source: Read Full Article