Denver runoff election: A last-minute voter guide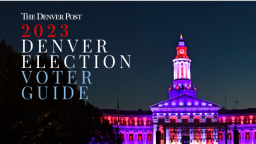 Election Day for the Denver municipal runoff election is June 6. Ballots must be received by 7 p.m. (it's now too late to mail them back). Find information about ballot drop-off box and vote center locations here.
Here is recent coverage of the runoff races by The Denver Post:
Denver mayor
• Big dreams and big promises — but can Mike Johnston deliver for Denver?
• Kelly Brough has a lot of experience, but is it the right kind for Denver voters?
• There's more than $5 million in outside spending in the Denver mayor's race, but one candidate has a huge advantage
• Denver mayoral debate: Kelly Brough and Mike Johnston still looking to stand out
• Denver mayoral runoff: Kelly Brough and Mike Johnston each have a path to victory, but progressives could be key
• Denver mayoral candidates discuss what sets them apart
• Mike Johnston out-fundraises Kelly Brough in first month of runoff race for Denver mayor
• Fact check: Denver mayor candidate called a liar in latest campaign ad. Here's what we know.
Candidate Q&As
• Get to know the Denver mayor runoff candidates: Mike Johnston and Kelly Brough
• Denver mayor runoff election candidate Q&A: Mike Johnston and Kelly Brough
Denver City Council
The candidates' names are linked to their Denver Post Q&As. Each of these races went to a runoff because no candidate won more than 50% of the vote in the April 4 election.
• Progressives fight to win Denver City Council runoffs — facing big spenders backing more moderate candidates
District 7: Flor Alvidrez will represent District 7 since Nick Campion withdrew during the runoff period.
District 8: Shontel M. Lewis v. Brad Revare. Lewis, a small business owner and former Regional Transportation District board director, received 35.7% of votes and Revare, a nonprofit leader, received 33.5% in an open five-way race to represent the northeast Denver district.
District 9: Candi CdeBaca v. Darrell Watson. CdeBaca, a first-term councilwoman, received 44.2% of votes and Watson, a small business owner, received 42.9% in a three-way race to represent an area that includes Five Points, Elyria-Swansea and a portion of Park Hill.
• Candi CdeBaca says her comments about taxing white-owned businesses were taken out of context
District 10: Chris Hinds v. Shannon Hoffman. Hinds, a first-term councilman, received nearly 36% of votes and Hoffman, a nonprofit administrator, received 27.1% in a four-way race to represent the central Denver district, which includes much of downtown.
Stay up-to-date with Colorado Politics by signing up for our weekly newsletter, The Spot.
Source: Read Full Article