COVID-19: Lockdown rules 'not boundaries to be pushed against' – as minister admits to supermarkets concern

Lockdown rules are "not boundaries to be pushed against", a government minister has warned – as he admitted there was concern at non-compliance with social distancing measures in supermarkets.
As the second week of England's third national lockdown begins, ministers are considering how to achieve greater enforcement of social distancing and mask-wearing in supermarkets.
Vaccines minister Nadhim Zahawi said the government doesn't "want to go any tougher" than the current lockdown rules, but suggested there could be a tightening of existing restrictions.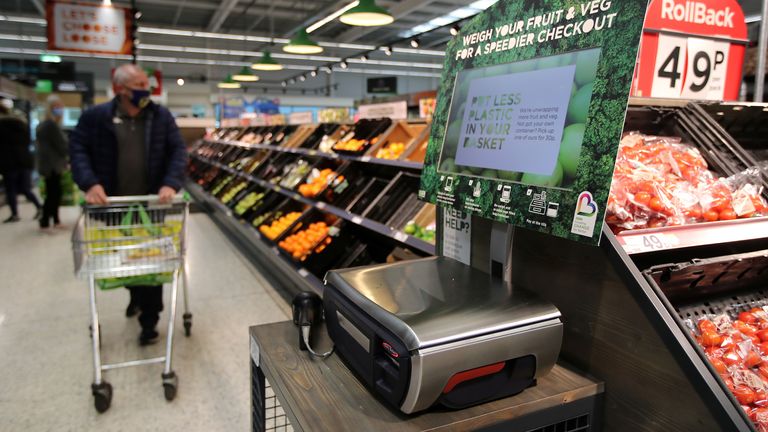 "The lockdown is actually pretty severe, we're asking people to stay at home, don't go out, if you have to go out it's only for exercise," he told Sky News.
"This virus loves social interaction and we are all pro-social animals, and it's the worst thing we do is to socialise.
"So, only going out to exercise for a limited time, stay at home.
"We are concerned that, for example, in supermarkets we need to make sure people actually wear masks and follow the one-way rule in supermarkets.
"And, of course, when they are at capacity – to operate safely, people wait outside supermarkets.
"We don't want to go any tougher, because this is a pretty tough lockdown."
Mr Zahawi urged people to "behave as if they've got the virus" over the next few weeks, as the most vulnerable are vaccinated against coronavirus.
"Our plea is to everybody, each and every one of us, these rules are not boundaries to be pushed against," he added.
"Just think, every social interaction you may have – that could be an incident of transfer, of transmission of the virus.
"The supermarkets have done a tremendous job and I want to complement and thank them all for the incredible work they've done – and also coming forward with offers of areas we can use for vaccination hubs and others.
"But, ultimately, the most important thing to do now is to make sure that actually enforcement – and of course the compliance with the rules – when people are going into supermarkets are being adhered to."
Mr Zahawi said the government's latest vaccination data, due to be published later on Monday, would show a "significant ramp up" in the number of people who have received their first dose of a COVID vaccine.
England's chief medical officer, Professor Chris Whitty, urged the public to play their part – by abiding by lockdown rules – in order to avoid even more COVID deaths.
He warned that the next few weeks would be the "worst weeks of the pandemic" for the NHS, with more than 30,000 people currently in hospital with the virus.
Prof Whitty said that people needed to "double down" and stop any "unnecessary contacts".
"It can be passed on, and very often is passed on, in households when people invite people into their home and meet them who are not from their household," he told the BBC.
"Of course, it can be passed on in any other environment: outside, in shops, in any kind of environment, and an indoor setting.
"The key thing to understand is that when you meet people from another household under any circumstances – and they're very often your friends, your family – but those are the kind of situations where the virus is passed on.
"It doesn't care who you are, it doesn't care whether they're your friends. If you meet someone from another household, the virus has an opportunity to be transmitted."
Source: Read Full Article