Communist Party Paper Casts U.S. Capitol Chaos as 'Karma'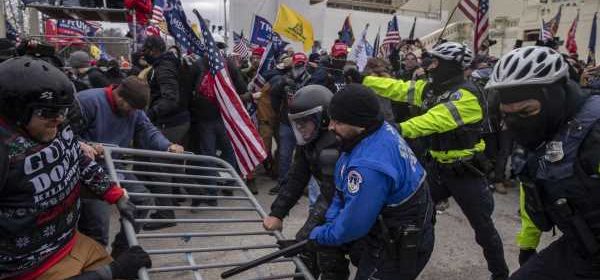 Chinese state media seized upon the chaos at the U.S. Capitol as an opportunity to drive home a narrative of American hypocrisy, casting the incident as "karma" and "retribution" for Washington's support of global protest movements.
The U.S. had "tasted the karma of its own double standards" after a pro-Trump mob stormed the Capitol, the Communist Party-backed Global Times newspaper reported, citing comments from Chinese internet users. The U.S. was tasting its own medicine after inciting chaos around the world under the pretext of freedom and democracy, the paper wrote, citing online users.
The events were widely reported elsewhere in Chinese media. An official social media account of the Central Political and Legal Affairs Commission, China's top law enforcement body, closely covered the developments, and articles using hashtags related to the incident garnered over 100 million views on social media platform Weibo.
@globaltimesnewsChina state-affiliated media
#GTCartoon: HK vs Washington DC. Uncle Sam's masterclass on democracy.6:16 AM · Jan 7, 2021
457
171 people are Tweeting about this