Colorado lawmakers want to tweak mushroom measure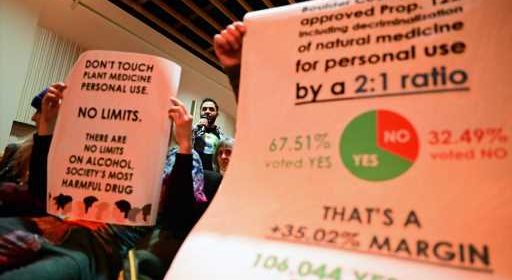 BOULDER — A call went out on social media, and now Sen. Steve Fenberg faced a crowd of skeptical constituents who'd heard rumors about his plans for psilocybin and the voter-approved ballot measure that legalized its use.
"There is a post on Reddit that many of you — it may be the reason why you're here because you were told that we were re-criminalizing what was decriminalized in Proposition 122," Fenberg said at a townhall Monday night. He sat on a stage next to fellow Boulder Democrat Rep. Judy Amabile. "Again, I don't know where that's coming from. But I will say that there will be a bill coming this session that will implement Proposition 122."
Over the next hour, as attendees repeatedly questioned him about his intentions, Fenberg — who serves as the president of the state Senate — said he wants to protect the "spirit" of the measure and ensure Colorado becomes a model for decriminalizing psilocybin.
Specifically, he wants to look at how the state should regulate the psilocybin healing centers established by Prop 122's passage. He was concerned, too, about the measure's lack of limits on the amount of psilocybin a person can grow and possess, and the potential of Colorado-grown mushrooms being sold in neighboring states. As it stands, the measure prohibits the sale of psilocybin (though it can be shared), and a person can't be searched or arrested by law enforcement solely for possessing it.
"The definition of personal use (in the measure) is a little squirrely," Fenberg said in a January interview. He has not introduced or formally drafted a bill related to psilocybin, he said Monday. "Again (I'm not trying to) to rein it in; it's to make it clear so A, people aren't getting tied up in the criminal justice system that shouldn't, and B, if there's clearly illegal activity or organized crime or drug trafficking, then law enforcement knows that they can step in."
Those concerns were echoed by Eric Bergman, the policy director for Colorado Counties, Inc. Like Amabile and Fenberg, he found himself the target of psilocybin advocates' concerns this week: A pro-psilocybin YouTube video featured Bergman's face and LinkedIn page, and identified him as a lobbyist working on the effort. One speaker mentioned him specifically at the town hall Monday night (Fenberg said he hadn't spoken with Bergman about the issue).
Bergman said Wednesday that counties — especially those that border Colorado's neighboring states — were worried about the sale and trafficking of mushrooms out of the state and wanted clarity on what law enforcement can do.
"We're concerned about the potential for gray and black market activity, based on the fact that you could have 20 acres of shrooms or something growing — way more than you could give away or share with friends or use for your own personal use," he said. He noted that the governor had recently named members of an advisory board and that some regulatory clarity would come as that body got up and running. "But I think the concern is that in the interim, there is no guidance for law enforcement and others on what we can and cannot do right now."
Fenberg, like Bergman, said he didn't know what precise limits on personal possession should be proposed. But any amount will likely prompt criticism from advocates. Nicole Foerster of Decriminalize Nature Boulder County, a pro-Prop 122 group, said Fenberg's comments about protecting the "spirit" of the measure were ambiguous. The group advocates "for full decriminalization defined by no limits to possession and no funding allocated to arrest and prosecution."
Any encroachment on those positions, Foerster said, "would be considered a rollback of the personal use section" of the measure.
Kevin Matthews, one of the chief supporters of the ballot measure, said that it's on lawmakers to back up their concerns about a mushroom black market sprouting out from Colorado. He said he would support making it easier for law enforcement to investigate potential illicit distribution out of state but that he first wanted evidence that was happening.
"My request and suggestion for lawmakers would be to wait until we get some data, and until we have proof, let's not add limits," he said.
Fenberg said that a large part of the bill he's working on will center on the regulated side of the ballot measure, governing approved healing centers. As the measure was passed, that oversight will exist under the authority of the state Department of Regulatory Agencies, or DORA. Fenberg said he's looking at whether that's where the oversight "should live."
"It's not really what DORA does," he told the Post in January. "They license occupations; they don't really regulate products, like therapy. So we're looking at the marijuana code and the way that we've implemented that over the years, where there's an office that does product testing, like safety issues, and then there's (Marijuana Enforcement Division) that actually regulates the facilities. So we're looking at that."
DORA spokeswoman Katie O'Donnell said that though psilocybin was unique from a regulatory standpoint (Oregon is the only other state to legalize it), it wasn't otherwise unusual for the department to stand up new programs and boards.
Department officials have asked lawmakers for a $700,000 loan to help implement the proposition because the agency "currently has no resources or expertise on psychedelic substances and would seek immediate help from professionals with experience working in the field," according to the budget request. Rep. Shannon Bird, who sits on legislative committees overseeing that request, said Wednesday that the agency wanted enough money to get the proposition's rollout right.
That was Fenberg's constant refrain Monday night: He wants Colorado to become a model for how legalized psilocybin and regulated therapy can work.
It's just unclear if his version of a model matches with proponents.
"I can tell you right now that a lot of people who supported Proposition 122 are prepared to fight to protect the rights that were just created," Matthews said. "I don't like the word 'fight' — they're prepared to defend the measure."
Stay up-to-date with Colorado Politics by signing up for our weekly newsletter, The Spot.
Source: Read Full Article