Biden slammed for Brexit meddling as President accused of 'sycophancy'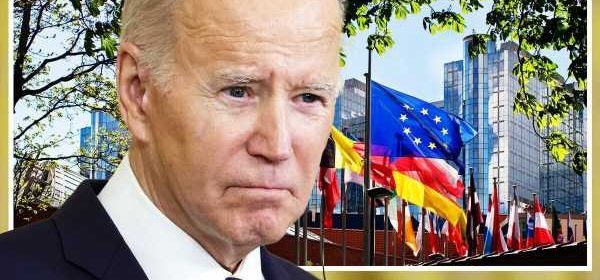 Ian Paisley questions James Cleverly about Northern Ireland
We use your sign-up to provide content in ways you've consented to and to improve our understanding of you. This may include adverts from us and 3rd parties based on our understanding. You can unsubscribe at any time. More info
Joe Biden has been slammed for his latest intervention in Brexit, which saw the President appoint Joe Kennedy as special envoy to Northern Ireland. DUP MP Ian Paisley Jr said: "It seems to be a sectarian appointment. A pro-Irish American appointing one of the club – as if this is a job for the boys. This is a perfect example of political sycophancy that one would expect from the Biden administration."
The MP joked that the appointment "flatters Joe Kennedy", adding: "I don't know what his economic skill is."
He explained: "He is not known for any influence or particular skill in economics so why would he be known as the man who is to be the whizz kid of the economy of Northern Ireland?"
While Mr Paisley Jr said he is "not impressed", he said: "We'll measure him not by his name but by his role.".
The move is seen as an attempt to put pressure on the UK to accept Brussels' demands the province is in effect under its jurisdiction and broken away from Britain.
Joe Kennedy III is a former Congressman who is the grandson of Bobby Kennedy and great-grandson of the first Joe Kennedy who was ambassador to the UK.
Mr Kennedy has strong links with Sinn Fein and is part of the Irish American lobby which has pushed Democrat policy into a pro-EU position on the thorny issue of the Northern Ireland protocol.
The position has been vacant since Mick Mulvaney left the position at the end of Donald Trump's presidency in January 2021.
It has been met with fury from the Conservative Party, with one insider telling Express.co.uk that Mr Kennedy's appointment is a "complete wind up for the Conservative party", adding that it has "ruffled loads of feathers already".
The insider said there have already been "lots of rumblings" about Mr Biden's decision, describing the Congressman as a "complete republican".
The source added: "People aren't happy about it."
Meanwhile, a senior member of the Conservative Party's European Research Group told Express.co.uk: "When I saw Joe Kennedy named I thought it as a wind-up to annoy people like me.
"I had to check whether it was April 1 or not. The decision would be ludicrous."
DON'T MISS:
Rishi Sunak given 2023 deadline to fix migrant crisis [INSIGHT]
Britons do not want Joe Biden's interference in hated Brexit deal [REVEAL]
Sunak told to focus on cost of living as UK heads for 'groundhog day' [ANALYSIS]
The UK has been locked in talks with the EU over the protocol – which was agreed as part of the withdrawal agreement to avoid a hard border in Ireland post-Brexit – since October 2021.
It allows Northern Ireland to remain within the EU's single market for goods but it has faced criticism because a border was effectively created between Great Britain and Northern Ireland down the Irish Sea.
The border has led to delays, supermarket shortages and increased costs for businesses in Northern Ireland.
Previously, the Biden administration warned Liz Truss' Government against "efforts to undo" the protocol.
Mr Biden is understood to be seeking a bigger role in the issue, which has been a major point of contention since the UK voted to leave the EU in 2016.
Source: Read Full Article