Biden schooled over budget: Anyone who took economy 101 knows 'this is the wrong approach,' McCarthy warns
video
Biden admin continues to propose the 'worst' policies for this country: Rep. Kevin McCarthy
House Speaker Kevin McCarthy, R-Calif., joined 'Mornings with Maria' to weigh in on President Biden's budget proposal and the ongoing debt ceiling fight.
House Speaker Kevin McCarthy is standing up to Biden's colossal $6.8 trillion proposed budget. 
The plan includes more than $5.5 trillion in tax increases over the next 10 years, even as the U.S. is on the doorstep of a sharp slowdown in the economy.
ECONOMIST WARNS BIDEN'S BUDGET PROPOSAL IS A 'FISCAL ATROCITY': THE 'WORST BUDGET I'VE SEEN'
"Anybody who's took economy 101 would know this is the wrong approach. We've got an economy worried about whether we're going to go downward, and he wants to take taxes. That's all he ever wants to do to create the biggest government we've ever had. And then what does he do about the deficit? He just adds to it," the California Congressman explained during an appearance on "Mornings with Maria."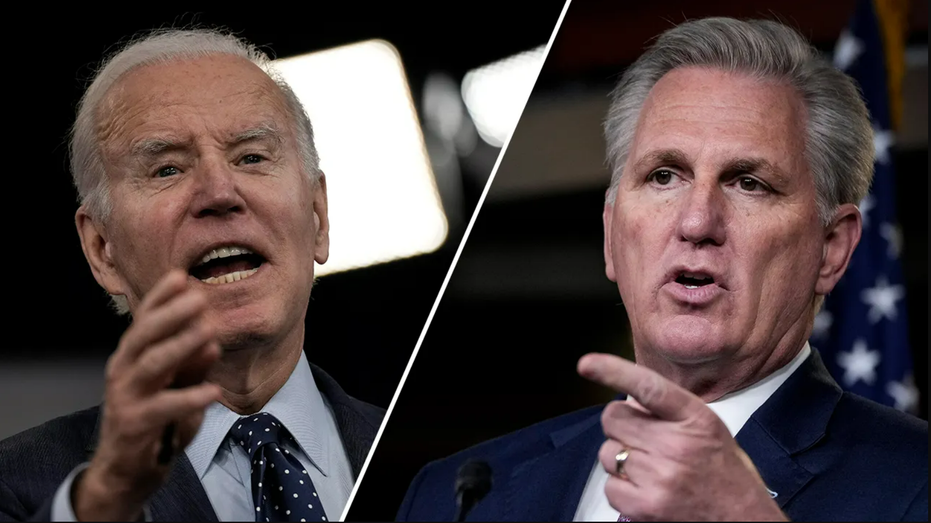 A split image of President Joe Biden and House Speaker Kevin McCarthy, R-Calif. When the President was addressing his hefty tax and spending plan, he spotlighted McCarthy, saying that he is ready to meet the Speaker "any time" to discuss the budget. (Drew Angerer/Getty Images / Getty Images)

McCarthy continued, arguing that Democrats' ill-advised spending budget has spawned unprecedented inflation in the U.S. economy.

"We've just had the Congressional Budget Office come out and tell us, why do we have inflation? All that spending Democrats did while they were in power, and now he wants to spend more? So now, we have to pay the piper. We're going to pay more than $10.5 trillion in the next 10 years just on interest. But for the American public to know, since 1942, today we've only paid $9 trillion in interest. So he's going to do what took us 80-some years to happen in less than 10 years," he argued.
video
Kevin McCarthy: The only way to curb inflation is to lower energy costs
House Speaker Kevin McCarthy reacts to President Joe Biden's controversial spending and calls out big-government policies on 'Kudlow.'

"For the first time in a 10-year window by the Congressional Budget Office, all three trust funds go insolvent. The Highway Trust Fund, Medicare and Social Security. And he has no answer. And why is it going insolvent? Because they raided it when they did Obamacare, they raided it when they passed their last big, all-Democrat bill, their American Rescue [Plan]. They continue to have the worst policies for this country. It's to take more and make government bigger," he remarked, Friday.

HOUSE REPUBLICAN CHIDES DEMOCRATS FOR REFUSING TO NEGOTIATE A 'SMART DEBT LIMIT INCREASE: 'NO BLANK CHECK' 

On Thursday, the President addressed his heavy tax and spending plan while also using the opportunity to target Speaker McCarthy, proposing that they "sit down" and go "line by line" through the budget.

"Where does government get their money? From the hardworking taxpaye – they take it from them."

Biden touted that he is prepared to meet with the speaker "tomorrow" if he "has his budget."

McCarthy responded, saying Friday: "I've been ready to meet with him since the day he got in, but he's been avoiding. He's been more than a month late with producing this budget. He's known it for more than two years."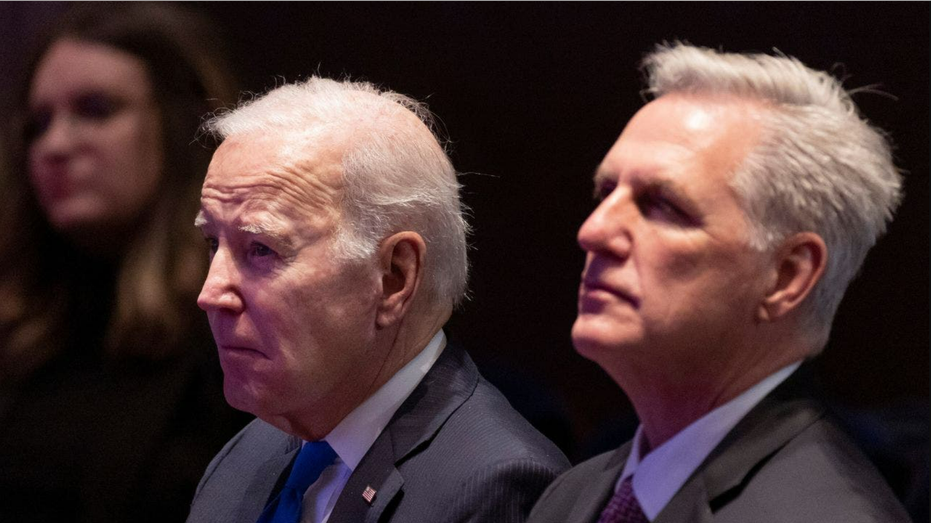 Joe Biden sits next to Kevin McCarthy during the National Prayer Breakfast at the U.S. Capitol on February 02, 2023, in Washington, DC.  ((Photo by Kevin Dietsch) / Getty Images)

McCarthy warned that he does not believe Democrats will support him in the passage of his excessive spending budget. 

"I don't even believe the Democrats would support this because, why? What has the American public learned? All this Democrat spending has brought us inflation. Has brought its problems with them attacking energy. We have higher energy costs. It costs more than a dollar a gallon from when he took office. This is the wrong approach," he argued.

GET FOX BUSINESS ON THE GO BY CLICKING HERE

"And this president doesn't believe there's any waste in government spending, with that $1.7 trillion omnibus bill they passed in the middle of the night. There is a lot of places that we can streamline in government. And remember, where does government get their money? From the hardworking taxpayer. They take it from them."

Source: Read Full Article