A federal judge in Atlanta denied a last-minute effort by Trump to decertify Biden's victory in Georgia.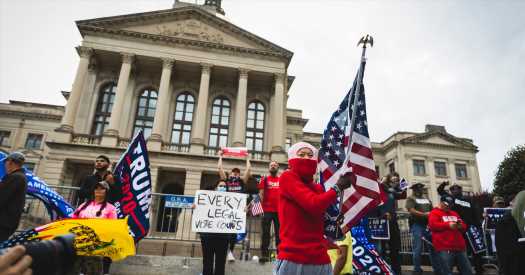 A federal judge in Atlanta on Tuesday denied a last-minute effort by President Trump to decertify Georgia's election results, handing the president yet another courtroom loss just one day before Congress is scheduled to bring the presidential race to an official end.
The ruling from the bench by Judge Mark H. Cohen denying the emergency petition brought the number of legal defeats that Mr. Trump and his allies have suffered since Election Day to more than 60. The challenges have spanned eight states and dozens of courts, and have become more desperate as the vote in Congress on Wednesday to formally certify the victory of President-elect Joseph R. Biden Jr. has drawn closer.
In a complaint filed just hours before the start of the new year, Mr. Trump and his lawyers asked Judge Cohen to toss the verified results of Georgia's presidential race, citing a litany of previously debunked fraud allegations. They claimed that officials in Georgia allowed dead people to vote, as well as unregistered voters, convicted felons still serving their sentences, and people who had registered to vote at post office boxes.
Mr. Trump raised many of these false accusations on Saturday in an hourlong phone call in which he pressured Georgia's secretary of state, Brad Raffensperger, to help him "find" just enough votes in Georgia to win the election. On Monday, another Georgia state official, Gabriel Sterling, held a news conference rebutting nearly all of Mr. Trump's false claims.
Judge Cohen denied the president's emergency request at a brief hearing on Tuesday morning that journalists were blocked from covering remotely. While reporters have covered most of the hearings related to election challenges from Mr. Trump and his allies by either phone or video, Mr. Trump's lawyers did not consent to allowing public access to the remote livestream of the hearing on Tuesday.
Source: Read Full Article