Latest News: UAW, PGA, Disney, Nike, Apple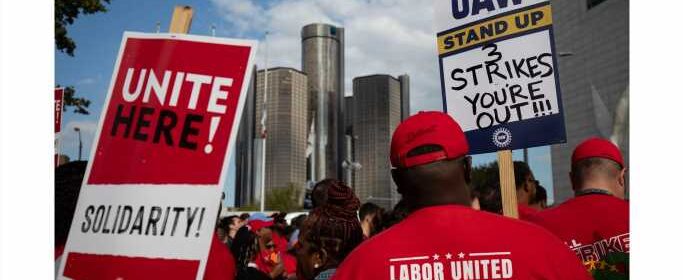 United Auto Workers president Shawn Fain will announce the union's next move at 10 am ET on Friday. UAW members walked out of three auto assembly plants two weeks ago, one at each of Ford Motor Co. (NYSE: F), General Motors Co. (NYSE: GM), and Stellantis NV (NASDAQ: STLA). Last week, union members at 38 GM and Stellantis parts distribution centers went out on strike. Ford avoided any further action because it had reached an agreement with the union on some issues.
Talks between the carmakers and the unions have resulted in few headlines this past week, meaning that little progress has been made and Fain is likely to announce further labor action Friday morning. The Detroit Three automakers have furloughed or laid off nearly 3,000 workers since the strikes began. More than 18,000 UAW members have gone out on strike.
Now that the Saudis have shown how it can be down, potential new U.S. investors are lining up an investment in professional golf's PGA Tour as an alternative to the Saudi bid. Bloomberg reported on the possible deal Thursday, citing people with knowledge of the matter.
Endeavor Group Holdings, Fenway Sports Group and KKR co-founder Henry Kravis are reported to be weighing an investment in the PGA Tour. The U.S. investors may end up as partners with the Saudi Public Investment Fund (PIF), according to Bloomberg sources. A PGA Tour spokesperson said that the PIF's offer has "resulted in unsolicited interest from other investors."
Walt Disney Co. (NYSE: DIS) shares took something of a beating on Thursday, dropping 3.6% after the company announced that it plans to invest $60 billion over the next 10 years on its resorts and cruise businesses. Shareholders, of course, would rather have Disney boost its dividend (currently $0.00) than spend more money.
While investors typically do not like anything that threatens their returns, this time, they may be right. As CEO Rober Iger closes in on completing the first year of his second go-round at Disney, he really has not shown much except a willingness to throw a plateful of spaghetti at the wall to see what sticks. His love affair with streaming has cooled; Disney is‌ looking for a buyer for either ABC or ESPN or both, and the stock price is down more than 16% over the past 12 months.
Never fear, though, Disney investors, help is on the way. The company has acquired the broadcast rights to the Rock & Roll Hall of Fame show. The induction of new Hall of Fame members will take place on November 3, and the show will be broadcast on ABC.
After U.S. markets closed Thursday, Nike Inc. (NYSE: NKE) reported better-than-expected earnings per share, but missed analysts' revenue estimates. The good news is that the company appears to have worked through its past inventory woes and expects current quarter gross margins to improve by a full percentage point compared to last year's fiscal second quarter. Sales in the United States and China were short of estimates, but Nike's partnership with other retail outlets did post solid growth in the quarter. Shares traded up nearly 8% in Friday's premarket session.
Apple Inc. (NASDAQ: AAPL) is getting some heat from iPhone 15 Pro and Pro Max buyers who are complaining that the pricey new phones are too hot to handle. Apple's response to the complaints boils down to "people are using the phones too much." That is always a crowd-pleaser.
While there are some questions about the new A17 chip as the source of the problem, the Financial Times cites long-time Apple analyst Ming-Chi Kuo, an analyst at TF International Securities, who said the problem is not related to the new chip. Kuo said:
The primary cause is more likely the compromises made in the thermal system design to achieve a lighter weight, such as the reduced heat dissipation area and the use of a titanium frame, which negatively impacts thermal efficiency.
In other Apple-related news, Jony Ive, Apple's former chief design officer, is reported to be in advanced discussions with ChatGPT creator OpenAI and Softbank to launch a venture to build an "iPhone of artificial intelligence." Softbank's Masayoshi Son, fresh from raising nearly $5 billion in the IPO of Arm Holdings PLC (NASDAQ: ARM), is considering dropping $1 billion in funding for the new device. The Financial Times cited three people familiar with the plan as its sources.
According to the Financial Times, Ive, Son and OpenAI CEO Sam Altman "hope to create a more natural and intuitive user experience for interacting with AI, in the way that the iPhone's innovations in touchscreen computing unleashed the mass-market potential of the mobile internet."
Sponsored: Tips for Investing
A financial advisor can help you understand the advantages and disadvantages of investment properties. Finding a qualified financial advisor doesn't have to be hard. SmartAsset's free tool matches you with up to three financial advisors who serve your area, and you can interview your advisor matches at no cost to decide which one is right for you. If you're ready to find an advisor who can help you achieve your financial goals, get started now.
Investing in real estate can diversify your portfolio. But expanding your horizons may add additional costs. If you're an investor looking to minimize expenses, consider checking out online brokerages. They often offer low investment fees, helping you maximize your profit.
Source: Read Full Article