Ethereum Name Services Integrate Fully with the Centralized Web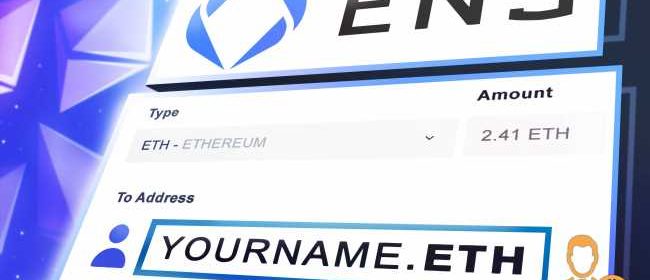 According to Ethereum Name Service (ENS), users that own a website address can now get ethereum (ETH) payments to that address. Consequently, it saves users from the hassle of registering for another .eth address as before.
Improving Accessibility
Presently, the internet uses the Domain Name System, often referred to as the "phonebook of the internet, such as Google.com. With DNS, people can easily navigate the internet by linking these sites to IP addresses. ENS functions much like Domain Name Service (DNS) on the standard World Wide Web
However, ENS is a decentralized version of this system. Domain names have .eth at the end. The names are stored on the Ethereum blockchain as opposed to centralized servers.
The director of ENS operations, Brantly Millegan, noted that the people with regular domains on the DNS can now receive any cryptocurrency through ENS with the new development. These people do that as if they had a .eth domain name. 
Ethereum Name Service
Ethereum Name Service (ENS) is an open, decentralized naming system. It runs on the Ethereum blockchain. The service gained significant inroads in June, with 10,700 new addresses created during June. The Ethereum Name Service has gained fame in the last few months. The addresses linked with Ethereum names now control over $276 million in funds.
ENS lets users associate their Ethereum addresses with human-readable names like eth. This is the same way we use emails to communicate, or website domain names, rather than IP addresses. Its purpose is to enable swift transactions with ether and other Ethereum-based tokens.
The readable names are also mapped to machine-readable identifiers such as the Ethereum addresses. They are also mapped in other cryptocurrency addresses, metadata, and content hashes.
It also enables "reverse resolution" to associate metadata such as people's names or interface descriptions with Ethereum addresses.
Major Payout
The right domain name can sell for a reasonable sum, which has led to the community snapping up domain names expecting significant payout.
Godaddy.com recently formed a list of the top 25 most expensive domain names. Topping the list is carinsurance.com, which sold for $49.7 million. In second place is insurance.com, selling for $35.6 million. Vacationrentals.com scoops the third spot at the cost of $35 million.
A recent Reddit post shows that artist. ETH sold for 10 ETH, while art collector Eth also sold for 10 ETH. The OP claims ENS has a lot of potential in terms of growth.
Related posts:
Source: Read Full Article