Ethereum Bulls Unveil Next Blow Up Point Following Highest Ever Monthly Candle Close
Ethereum (ETH) is poised for a massive break-out in the long term. Like Bitcoin and a handful of altcoins, predictions for long-term prices are bullish.
For altcoins especially, the rise in institutional adoption has been ongoing and sufficient enough to rake in over $20 Billion in inflows for altcoin products over the last month. Cardano (ADA) and Ethereum (ETH) have been some of the highest beneficiaries, with the former being the most favored in the past week.
Analyst: September looks like it will be Ethereum's month
The result of this rising institutional demand for Ether is an attractive price-performance that is expected to trigger an eruption anytime soon. At press time, Ether is up over 20% this week, after sustaining weekly gains and maintaining prices above $3,900. The Analyst Rekt Capital observed that Ether performed its highest ever Monthly candle close; Ethereum broke out of its multi-month triangle.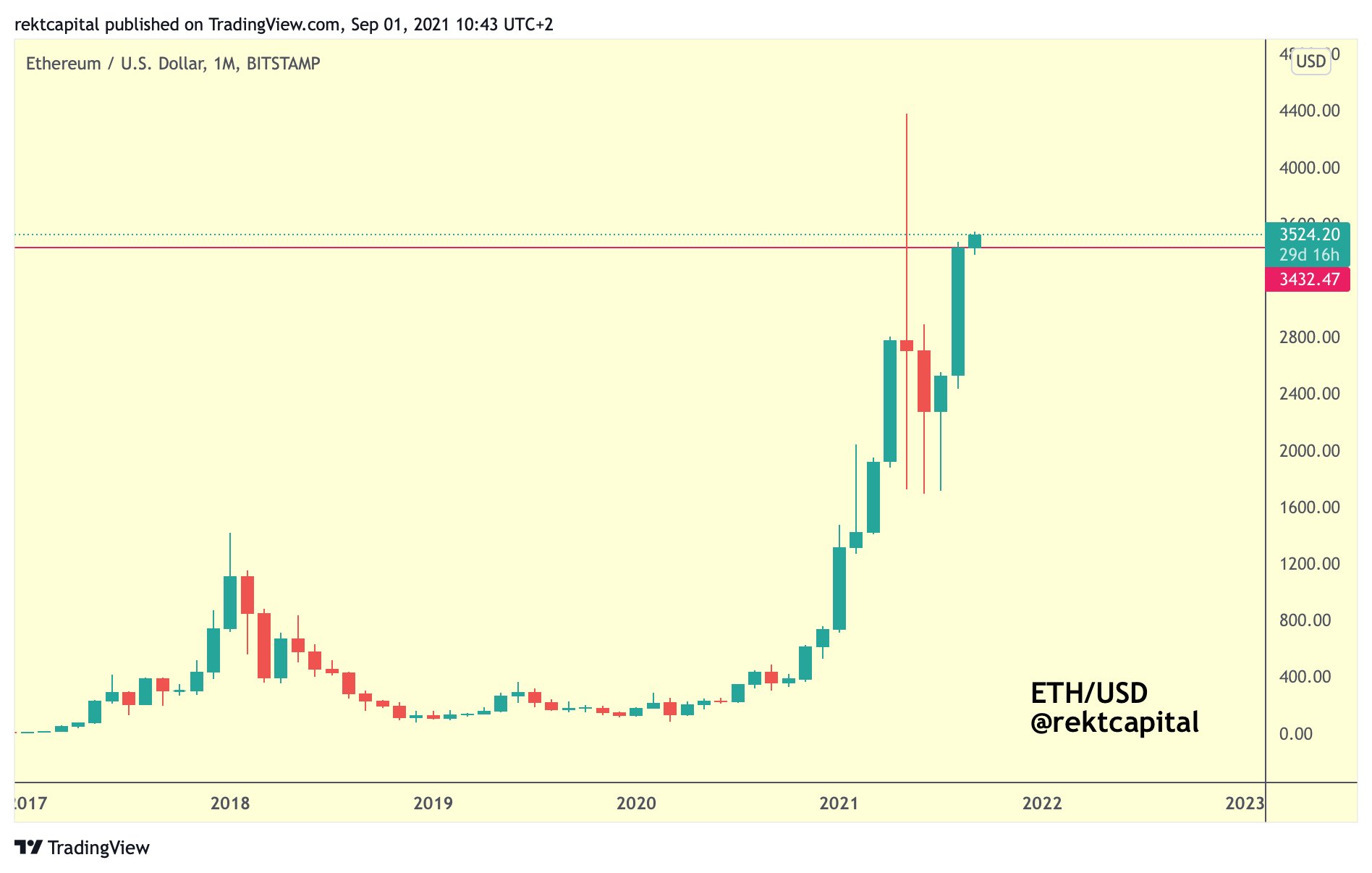 On the 31st of August, Ether's daily close inside the blue range would've been enough to successfully enter some re-accumulation consolidation at the highs as seen in the chart. However, Ether bulls were rejected from the blue range. 
Highest monthly close since its creation
Regardless, the breakout from the monthly triangle followed, and as the analyst noted, the asset is already in the process of breaking the record. ETH/BTC has broken out from the triangle and the breakout has created more room for more upside price movement.
Ethereum seems to be positioning itself for a bullish weekly close, with the phenomenal monthly close it attained on the 1st of September. This appears to be the highest monthly close for Ethereum in its entire history.
Despite the $3,400 closing price in August, the bulls are already positioning the price level as support to aid the asset to springboard even higher. "That's really bullish price action really early in the month," reckons the analyst. As long as the monthly candle close is above $3,400, Rekt is positive that lower range levels will not spring up.
Long-term price predictions are collectively pointing to $10,000. However, some analysts are more focused on the short-term price performance of the asset and are predicting that a breakout above $4,000 will propel Ether to new highs of $5,000 or $6,000 in the coming weeks.
Source: Read Full Article