UK Construction Sector Slips Into Contraction On Renewed Fall In Orders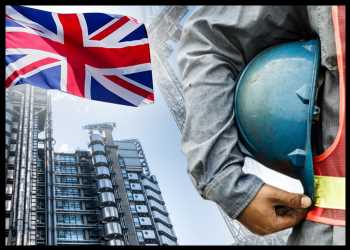 The UK construction sector contracted for the first time in four months in December as higher price pressures pulled orders down, a closely watched survey showed Friday.
The S&P/Chartered Institute of Procurement & Supply construction Purchasing Managers' Index fell more-than-expected to 48.8 in December from 50.4 in November. The expected reading was 49.6.
Output contracted for the first time since August and marked the biggest fall since May 2020.
Among three major sectors, commercial activity continued to increase, with the rate of contraction the slowest in the current four-month sequence of growth.
On the other hand, the improvement in the commercial sector was outweighed by falls in residential as well as civil engineering sectors.
There was a renewed reduction in new orders, reversing a moderate uplift in November as higher prices dampened client demand.
Confidence among constructors towards the year ahead activity slid into negative territory for the first time since the onset of Covid as firms expect a recession and poor demand conditions.
Employment dropped for the first time since January 2021. Firms lowered their purchasing activity for the first time in three months due to lower workloads. Further, average lead times for inputs lengthened to a greater degree in December.
Due to rising energy, material, fuel and import costs, input prices increased notably but at the slowest pace in two years. Rates charged by subcontractors also increased, but at a slightly reduced pace.
Source: Read Full Article