China Private Sector Sinks Into Deeper Contraction Amid Covid Scare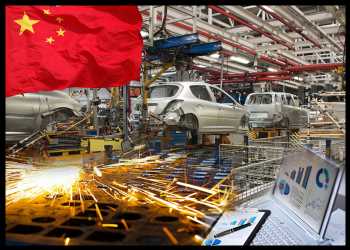 China's manufacturing and services sectors weakened the most since early 2020 despite the abrupt abandonment of zero Covid policy in December amid public resistance, as the number of infections rise that prompted several countries to raise alerts and, bring back testing and protective measures.
The official manufacturing Purchasing Managers' Index declined to 47.0 in December from 48.0 in the previous month, survey data published by the National Bureau of Statistics showed over the weekend. A score below 50.0 indicates contraction in the sector.
The production sub-index weakened by 3.2 percentage points to 44.6 in December. Demand also waned towards the end of the year, with the new orders index easing to 43.9.
The non-manufacturing PMI that combines services and construction, declined more sharply to 41.6 from 46.7 a month ago.
Both the manufacturing and non-manufacturing indices reached its weakest levels since early 2020. By contrast, the construction sector continued to expand in December.
Consequently, the overall composite output index fell to 42.6 from 47.1 in the previous month.
China has been in strict zero-Covid policy over the last year that disrupted global supply chain and also weighed on global trade. Although the re-opening will provide an eventual recovery, global recession together with continuing domestic property downturn pose challenges to the process.
The International Monetary Fund had forecast China's economy to grow 3.2 percent in 2022 and 4.4 percent this year. The Asian Development Bank projected China's growth at 4.3 percent in 2023.
In an interview on Sunday, IMF Managing Director Kristalina Georgieva said this year will be "tougher" for the global economy than last year. She pointed out that the three main economies – US, EU and China, are slowing simultaneously.
The IMF chief also noted that China's growth last year is likely to be at or below the global growth average for the first time in 40 years.
Source: Read Full Article