Top Reasons Why Crypto Market is Down Today? – Coinpedia Fintech News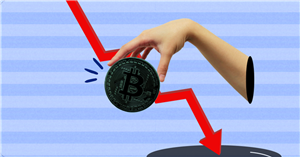 The recent significant decline in the price of Bitcoin can be attributed to several complex factors. After the Consumer Price Index (CPI) data, the price of Bitcoin surged above $28,000. However, it was short-lived and the bears quickly took in charge of the situation. Here are a few reasons why the Bitcoin price is declining.
Fake news and shockers
Despite some positive news on May 10, including a continued drop in CPI, which caused the price of Bitcoin to briefly surge, things quickly took a turn for the worse. This might be due to the fake news circulated about the U.S. government selling 9,800 BTC, causing widespread panic and triggering a flash crash in the Bitcoin market.
The market experienced another shock when the news of Jump and Jane Street's exit from the U.S. crypto market surfaced online. Regulatory uncertainty in the United States was cited as the reason for this move by the two major market makers.
Lack of momentum
Adding to the current state of unease is the fact that the Dollar Index (DXY) is hovering above a crucial support level at 101.8, a point of historical significance. Since early April, the DXY has been very close to this support level but has managed to resist any significant bearish pressure. According to Christopher Inks, who is associated with Texas Wet Capital, the DXY saw a further uptick yesterday, reaching 102.056, and this is contributing to a lack of momentum in risk assets.
Low liquidity
The issue of low liquidity is likely to worsen in light of these developments. This could lead to increased volatility as larger buy and sell orders have a more significant impact on the market. Moreover, traders are currently fearful of a head and shoulders pattern on Bitcoin's 1-day chart, which could signal a drop to $25,000.
Bitcoin Ordinal Transactions record dips
Bitcoin Ordinal transactions are experiencing a decline in popularity, as evidenced by a drop in trading volume over the last three days. The number of transactions has also decreased, from 17,000 to 6,000. As a result, UniSat's market share has declined from 80-90% to 50-60% presently.
Source: Read Full Article