This Coin Beat Top 100 Cryptocurrencies With 120% Rally

Cryptocurrencies and the gaming industry have a new contender in Rollbit, and it has been making headlines over the past few days thanks to a slew of improvements to its blockchain technology.
In a recent development, Rollbit disclosed its most current changes to the platform's blockchain technology, propelling it to the forefront of the market.
Notably, the company has started offering strong support for its own native cryptocurrency, Rollbit Coin (RLB), giving customers access to better ecosystem functionality and advantages.
Based on crypto market tracker Coingecko figures, this lesser-known RLB coin has skyrocketed by more than 120% in the last seven days. At the time of writing, RLB was trading at $0.1224, up 24% over the previous 24 hours.

Source: Coingecko
RLB is a crucial part of the Rollbit lottery system, which decided to airdrop RLB tokens to their current Rollbit.com gaming and trading platform customers rather than holding an initial coin offering (ICO).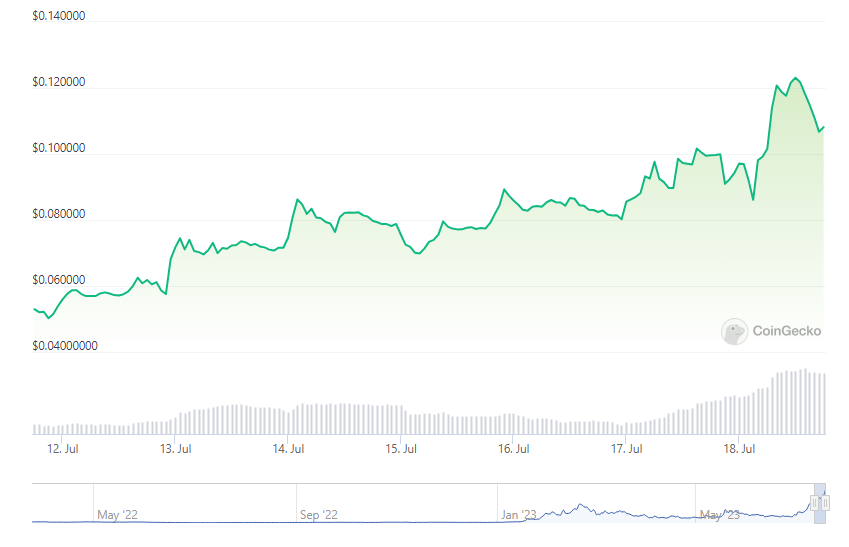 RLB seven-day price action. Source: Coingecko
Despite being a relatively new platform, Rollbit has quickly become one of the top competitors in crypto casinos. Rollbit has established itself as a dominant and significant power in the business, with an average monthly wagering volume above $1 billion.
RLB has a market valuation of $357,728,046 with a 24-hour trading volume of $15,311,290. There are 3.3 billion coins in circulation.
The highest transaction for RLB today was $0.1248. Its current price is over 14% less than its previous peak.
As of today, cryptocurrencies have a market cap of $1.16 trillion. Chart: TradingView.com
The Unstoppable Growth Of Cryptocurrencies And Bitcoin Casinos
One of the newest trends in the cryptocurrencies and gaming sector, crypto casinos, could change the face of the industry as we know it.
Some of the biggest Bitcoin casinos on the market now have thousands of active players worldwide, thanks to their numerous advantages over conventional casinos, including quicker payments, better security, and greater transparency.
According to Casinos Blockchain, the global crypto casino market will be worth nearly $280 billion this year, with a $250 million gambling market. Over the years, cryptocurrency has accounted for 4% of all gambling, which is quickly rising.
By the end of 2030, Straits Research projects that the global industry for online cryptocurrency gambling will be worth $153 billion, expanding at a CAGR of about 12%.
Meanwhile, based on Captain Altcoin's research, Rollbit (RLB) earns an astounding annualized revenue of $498,582,700 by collecting almost $1.36 million daily. This revenue exceeds that of Ethereum, a cryptocurrency with 2,000 times the value of Rollbit.
(This site's content should not be construed as investment advice. Investing involves risk. When you invest, your capital is subject to risk).
Featured image from BitcoinChaser
Source: Read Full Article