Solana's Positive Moves Meet Resistance At $17 High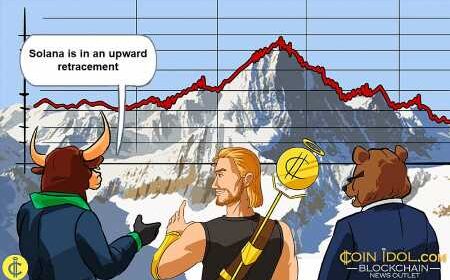 Cryptocurrency analysts of Coinidol.com report, Solana's (SOL) upside correction is encountering resistance at the $17 high or the 21-day SMA limit.
Solana price long-term forecast: bearish
Buyers have been retesting and attempting to break the recent high over the past four days. The current high is in an overbought area, making it difficult for buyers to enter.
At the time of writing, the altcoin is worth $17.23. The bulls have broken the 21-day line SMA again as it continues to rise. The current positive momentum may face resistance at the $19 high. If the current barrier is broken, Solana will reach a high of $22. However, if the altcoin is rejected at the recent high, Solana will fall and be forced to trade in a range. The cryptocurrency value is trading between $14 and $17.
Solana price indicator analysis
Solana is at level 48 of the Relative Strength Index for period 14. The altcoin is in a bearish trend zone and could fall further. The price bars are between the moving average lines, indicating a potential move within a range. Every time it is rejected at the moving average lines, the cryptocurrency will fall. The altcoin rises above the 75 level of the daily stochastic.
Technical Indicators
Key supply zones: $20, $25, $30
Key demand zones: $10, $5, $1
What is the next move for Solana?
Solana is in an upward retracement after rising above the 21-day simple moving average. If the 21-day line SMA remains as a support level, the altcoin will rise. Altcoin will regain its previous highs. If buyers keep the price above the 50-day line SMA, the uptrend will accelerate.
On Jun 18, 2023, Coinidol.com reported that: The uptrend is encountering resistance at $16. According to the Stochastic on the daily chart, the high at $16 represents an overbought area of the market.
Disclaimer. This analysis and forecast are the personal opinions of the author and are not a recommendation to buy or sell cryptocurrency and should not be viewed as an endorsement by CoinIdol.com. Readers should do their own research before investing in funds.
Source: Read Full Article