Meet the 13-year-old student selling sneakers for Bitcoin: The Agenda podcast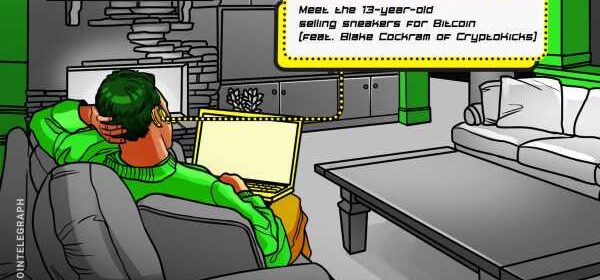 Footwear has long been a critical element of culture and fashion worldwide. For some, shoes exist only to protect one's feet from the elements; but for others, they are the most critical part of a wardrobe. Sneakers, in particular, have developed a cult following, with some ultra-rare pairs selling for tens of thousands of dollars. 
An entire industry has developed around sneaker culture, ranging from the shoe manufacturers and retailers themselves to the influencers who help drive the culture. And as Web3 becomes more mainstream, big sneaker brands like Nike are dipping their toes into nonfungible tokens (NFTs) and the metaverse, while play-to-earn projects like StepN have also experimented with tokenizing shoes.
One particularly active group is resellers, who purchase just released, high-demand shoes and resell them to eager buyers who missed out on the original drop. CryptoKicks, a United Kingdom-based shoe resale business founded by 13-year-old Blake Cockram, is taking this business model and adding a fresh Web3 spin to it — anyone who buys a pair of sneakers with crypto gets 10% off their order.
On Episode 22 of The Agenda, hosts Jonathan DeYoung and Ray Salmond chat with Blake to learn what it's like being a teenage entrepreneur and how CryptoKicks' crypto-centric business model is helping onboard new users into the blockchain space.
Onboarding newbies to crypto, one shoe at a time
"We accept crypto as a payment," Blake explained. "You can pay in whatever you want, but we've got a thing going, and if you pay in crypto, you get 10% off any trainer." According to the young entrepreneur, this proves an enticing offer for many, especially when in-demand sneakers on the secondary market can cost hundreds of dollars.
"People think, 'Oh wow, that sounds quite good. May as well get some crypto and get some cheaper Jordans.'"
CryptoKicks accepts Bitcoin (BTC), Ether (ETH) and stablecoins like Tether (USDT). According to Blake, most customers who purchase sneakers with crypto are brand new to blockchain. "'I've probably only had about one or two people who were already into crypto, but everyone else has kind of been new to it, and we've got them into it," he told co-hosts Jonathan DeYoung and Ray Salmond. So, in addition to getting a pretty sweet discount, Blake's customers also learn how cryptocurrencies like Bitcoin work and how to take greater control over their assets.
"We've walked a couple people through it, like download this app, make your wallet, that it might take 24 hours to confirm you, because it normally does. And you just tell them how to go through it. And a couple people have asked us, 'What's the best coin for me to pay you in? What would I make money off in the future?' and stuff like that."
The life of a 13-year-old crypto entrepreneur
Blake, himself, was orange-pilled by his older brother. "He's into crypto a lot, and he's like, 'We could do something crazy here. 'You start your company and put crypto in the name, and people are going to go crazy for it.' And we've done it, and it's worked out pretty good."
At 13 years old, Blake is still in school, where the opinions of other students are mixed when it comes to crypto. "People ask me, like, 'What is crypto?' Because not many people actually know about it," he explained. "And then you've got some people who do know about it, and they're like, 'It's a good thing.' But I've also got some people who are like, 'Oh, I don't believe in crypto. It's a load of rubbish.'"
But Blake is doing his best to spread awareness among his classmates:
"I just say like, 'I think crypto is good.' Like it's a new way of payment [that] not a lot of people know about. You can get money instant, and it's like good fun as well, having a bit of crypto, sending it around, that stuff."
To hear more from Blake's conversation with The Agenda, including his insights on sneaker culture in the U.K. and his plans for his future, listen to the full episode on Cointelegraph's Podcasts page, Apple Podcasts or Spotify. And don't forget to check out Cointelegraph's full lineup of other shows!
Magazine: 6 Questions for Leila Ismailova: Digital fashion and life after Artisant
This article is for general information purposes and is not intended to be and should not be taken as legal or investment advice. The views, thoughts, and opinions expressed here are the author's alone and do not necessarily reflect or represent the views and opinions of Cointelegraph.
Source: Read Full Article