Mark Cuban: Crypto 'Exactly' Like Dot-Com Bubble — Expects Bitcoin to Survive Bubble Burst, Thrive Like Amazon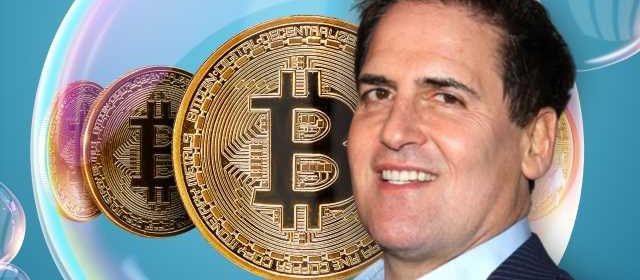 Billionaire Shark Tank investor Mark Cuban sees cryptocurrency "exactly" like the dot-com bubble. He says bitcoin and a few other cryptocurrencies are analogous to those dot-com stocks, like Amazon and Ebay, that survived the bubble burst and thrived.
Mark Cuban Likens Crypto to Dot-Com Bubble
Shark Tank star Mark Cuban compared what he feels is a bubble in bitcoin to the dot-com bubble on Monday after the price of the cryptocurrency took a nosedive. The owner of the National Basketball Association's (NBA) Dallas Mavericks tweeted:
Watching the cryptos trade, it's exactly like the internet stock bubble. Exactly. I think BTC, ETH, a few others will be analogous to those that were built during the dot-com era, survived the bubble bursting and thrived, like AMZN, Ebay, and Priceline. Many won't.
"Along the way, many fortunes will be made and lost and we find out who has the stomach to hodl and who doesn't. My advice? Learn how to hedge," he elaborated.
At the time of writing, his tweet has garnered 895 comments. It has also been retweeted over 1.7K times and liked more than 10.8K times. Several people on Twitter view Cuban's comment as bullish for BTC and ETH.
Among the commenters was Tyler Winklevoss, co-founder of Gemini cryptocurrency exchange, who argued that cryptocurrencies are not like stocks. "Wrong. Cryptos like BTC and ETH are networks, they are definitely not stocks or shares of a company. They are like owning a piece of the early Internet. Comparing them to stocks is an apples to oranges comparison," he explained to Cuban. After discussing bitcoin as a store of value, the Shark Tank star reiterated his stance:
I said BTC is like gold, it's a store of value with no other utility. At least I can eat bananas.
Gold bug Peter Schiff chimed in, telling Cuban: "Mark, you can't store what you don't have. Gold is a store of value as you are storing gold for future use as a metal. Jewelers will need gold, computer chip manufactures will need gold, dentists, etc. But no one actually needs bitcoin now, so no one will need it in the future."
In a follow-up tweet, Cuban wrote:
As during the dot-com bubble, 'the experts' try to justify whatever the pricing of the day is. Crypto, much like gold, is a supply and demand driven. All the narratives about debasement, fiat, etc are just sales pitches. The biggest sales pitch is scarcity vs demand. That's it.
The Gemini co-founder disagreed. "The narratives around debasement of fiat are facts. Have you looked at the Fed's balance sheet lately? What's the matter with supply and demand? The value of land, a Picasso, or the Dallas Mavericks franchise are determined by supply and demand too," he told Cuban.
Source: Read Full Article