Hedera Soars 17%: Uncloaking The Catch Behind The Rise

Hedera (HBAR) has stolen the limelight by becoming the highest-gaining cryptocurrency in the past 24 hours. As investors eagerly accumulate, the token's price exhibits a roller-coaster ride of volatility. While optimism fuels the anticipation of a price rally, caution is advised as HBAR's Bollinger Bands cast a shadow of uncertainty over its immediate future.
At the time of writing, HBAR's price is recorded at $0.071 according to CoinGecko, reflecting an 8.1% rally over the past 24 hours. Impressively, the token has experienced a seven-day surge of 21.3%, underlining its significance in the market's recent performance.

Hedera price action today. Source: Coingecko
Hedera Price Roller-Coaster And Its Indicators
The token's recent performance showcases its resilience amidst market dynamics, but investors should be prepared for its volatile nature. Bollinger Bands, a widely-used technical analysis tool, serve as a flashing signal of HBAR's ongoing turbulence. 
A price analysis notes that token is currently trading above the upper band of the indicator, implying a potential overbought situation. Moreover, the notable disparity between the upper and lower bands accentuates the prevailing high volatility. This discrepancy warns of an imminent correction, underscoring the capricious nature of HBAR's market behavior.
Today, @droppcc, the micropayments solution built on @Hedera and fuelled by #HBAR, was showcased as a service provider for FedNow, the instant payment service developed by the @federalreserve 🇺🇸
Catch up with @SushilDropp (CEO, Dropp) as he explains the #Hedera integration: pic.twitter.com/4HbZqlwghl
— HBAR Foundation (@HBAR_foundation) August 14, 2023
The surge in HBAR's value can be attributed to a significant development in the coin's ecosystem. News of the United States Federal Reserve's endorsement of the FedNow payment system, which integrates support for Dropp—a micropayment platform built on the Hedera Network—has undoubtedly propelled the value of HBAR. 
This latest endorsement follows a series of positive strides for Hedera. In the preceding week, the network cemented its commitment to a "blockchain-powered future" by becoming a part of Blockchain for Europe. 
HBAR market cap currently at $2.3 billion. Chart: TradingView.com
Hedera Transactions, User Base Climb
Amidst the market's tumult, Hedera's accomplishments continue to underscore its prowess. The recent celebration of processing 17 billion transactions on its blockchain stands as a testament to its efficiency and scalability.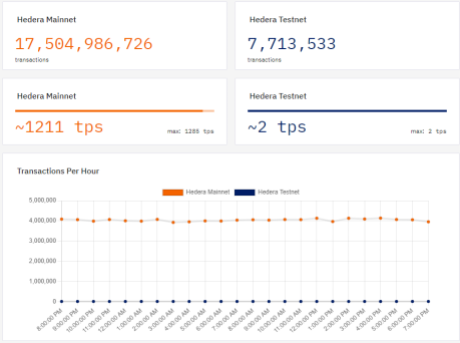 Source: Arkhia Metrics
Data sourced from Arkhia reveals that the total transactions now stand at an impressive 17.5 billion. Additionally, the network boasts an expanding user base, with 3.1 million accounts created as of press time. These milestones not only reflect the network's growth but also highlight its potential as a significant player in the blockchain space.
(This site's content should not be construed as investment advice. Investing involves risk. When you invest, your capital is subject to risk).
Featured image from The Daily Hodl
Source: Read Full Article