Grayscale Ethereum Futures Trust: SEC Decision Delayed to 2024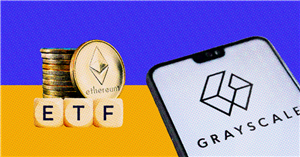 The SEC has delayed its decision on Grayscale's Ethereum Futures Trust until January 1, 2024.

The cryptocurrency market is not worried about the SEC's delay tactics.

Grayscale's CEO believes that turning ETHE into an ETF is a smart move that will help Ethereum gain regulatory approval.
In recent news, the Securities and Exchange Commission (SEC) has surprised everyone by extending the deadline for deciding on Grayscale's Ethereum Futures Trust. Now, the new date to watch out for is January 1, 2024. This delay gives the SEC extra time to think about whether to approve, disapprove, or look into the proposed rule change more closely.
The SEC's filing on Wednesday indicated a need for a more extended period to review the proposal thoroughly. Initially, a decision was expected this November or possibly next year. However, the SEC now has an extended window to deliberate.
HashDex's Time in the Spotlight
Hashdex, a notable player in the cryptocurrency market, is also in the news for its recent application to convert its bitcoin futures ETF into a spot bitcoin ETF. This application was submitted in September, alongside Grayscale's filing for its ether futures ETF. The SEC has also postponed its decision on these filings to January 2023.
Surprisingly, the cryptocurrency market isn't bothered by the SEC's delay tactics. Bitcoin's price jumped up more than 5%, hitting $37,500 after the announcement. This shows that the market isn't too worried about what regulators are up to.
Also Read: Grayscale's GBTC Discount Hits 2-Year Low: ETF Approval Incoming?
Grayscale CEO's Big Plan for Ethereum ETF
Grayscale's CEO, Michael Sonnenshein, thinks turning ETHE into an ETF is a smart move. He believes it's a big step in getting Ethereum accepted by US regulators. Grayscale sees this as a crucial move for the growth of their product.
The SEC has not decided on the latest Bitcoin futures ETF applicants batch. The regulatory body has expressed concerns about market manipulation and the need for surveillance-sharing agreements, critical factors in their decision-making process.
This Might Interest You: How DCG, Grayscale, and Genesis's Trading Scheme Misled Investors
Source: Read Full Article