Genesis Reveals Strategy to Repay Creditors After Declaring Bankruptcy – Coinpedia Fintech News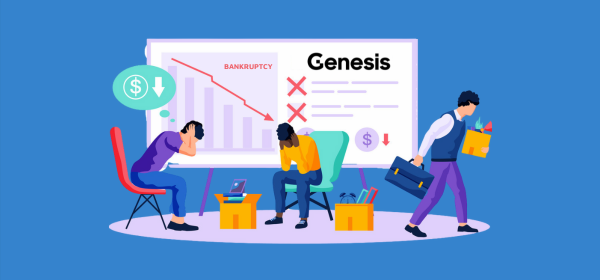 Genesis Global Trading equity to be turned over to Genesis Global Holdco for eventual sale and repayment of clients.

Gemini Trust Co. to contribute "up to $100 million more" for affected Earn users as part of the resolution plan.
Bankrupt cryptocurrency broker Genesis has filed plans detailing how it will repay its creditors. According to a recent filing, the parent company of Genesis, Digital Currency Group (DCG), has agreed to transfer its equity in Genesis Global Trading to Genesis Global Holdco. The eventual goal is to sell both companies and repay clients who were impacted by the bankruptcy.
Genesis served as the primary lending partner of New York-based cryptocurrency exchange, Gemini, but went bankrupt and owes users of the high-yield savings product, Gemini Earn, $900 million. The announcement of the agreement between Gemini, Genesis Global Capital, and Digital Currency Group was made earlier this week by Gemini co-founder Cameron Winklevoss on Twitter.
The interim CEO of Genesis, Derar Islim, stated that the company is moving closer to resolving its lending business and maximizing value for all clients and stakeholders. The agreement in principle was reached with two groups of ad hoc creditors, including Gemini Trust Co. and DCG.
Previously, users of Gemini were able to earn cash through their cryptocurrencies via Genesis, but the company had to halt withdrawals in November after digital asset exchange FTX went bankrupt. Genesis had approximately $175 million in exposure to FTX and unsuccessfully sought a $1 billion bailout from investors before filing for bankruptcy.
Gemini will contribute $100 million
As part of the plan, Cameron Winklevoss announced that Gemini Trust Co. will contribute up to $100 million more for Earn users. Gemini had partnered with Genesis to offer the Earn yield product until November 16, when Genesis announced it was halting its lending business, affecting the access of Gemini Earn customers to their funds.
The restructuring and sale of the crypto trading business and lending arm of Genesis are expected to maximize recoveries and provide stability to its customers and partners. This recent filing provides hope to the affected parties that a resolution to the issue is within reach. The outcome of the plan remains to be seen, but it is a positive step towards resolving the financial difficulties of Genesis and repaying its creditors.
Source: Read Full Article