FLURRY Finance Collaborates with Kyber Network to Further Optimize Yield Farming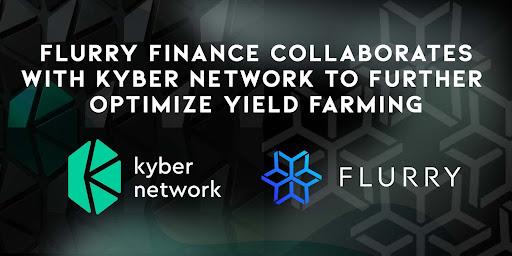 HONG KONG, HONG KONG, 31st August, 2021,
 — FLURRY Finance is collaborating with Kyber Network to provide more efficient cross-chain yield farming to the DeFi community. Kyber's Dynamic Market Maker (KyberDMM) decentralized exchange will allow $FLURRY holders to trade with ample liquidity and low slippage rates.
FLURRY Finance aims to elevate its stable rhoTokens as a medium of exchange in daily transactions. This aligns with KyberDMM's low transaction costs and high liquidity, making KyberDMM the perfect place to hold FLURRY Finance's liquidity..
Through KyberDMM, $FLURRY token holders will be able to liquidate reward tokens with extremely low slippage costs. KyberDMM aims to achieve high capital efficiency through its amplified liquidity pools, where slippage can be up to 100x more capital efficient for stable pairs than what is currently available; while returns are optimized via dynamic fees, which are influenced by market conditions.
To minimize exposure to price volatility of reward tokens, FLURRY will regularly liquidate reward tokens for underlying stablecoins to realize income for its users.
"We're very excited about our collaboration with Kyber as it will provide numerous long-term benefits, such as allowing $FLURRY holders to earn fees by supplying stablecoins to KyberDMM liquidity pools with minimal transaction fees. This is a win-win for both platforms and communities. FLURRY generates income for its users while Kyber attracts more liquidity, resulting in lower slippage and costs for everyone," said Mike Ting, CEO of FLURRY Finance.
The collaboration also allows FLURRY users to mint different rhoTokens (rhoUSDT, rhoUSDC, rhoBUSC) without needing to hold the corresponding stablecoin. For example, USDC owners can convert their USDC to USDT first through Kyber before minting rhoUSDT tokens.
"Kyber Network is proud to provide blockchain projects with an optimized solution for their liquidity needs through the KyberDMM liquidity protocol. We look forward to Flurry's launch." – Loi Luu, CEO and Co-Founder, Kyber Network
This new development comes a month after FLURRY Finance closed a $3 million funding round from investors including AU21 Capital, GenBlock Capital, CoinUnited.io, One Block, Soul Capital, and Dutch Crypto Investors.
After the successful launch of the FLURRY testnet in July, FLURRY Finance is slated to make its IDO on the Cardano-based launchpad, CardStarter, for members of the crypto community who want to hold the platform's governance token, $FLURRY. The token will allow holders to vote on plans to add or remove new yield farming strategies and assign risk factors to active schemes. Over time, the FLURRY protocol's governance will be wholly controlled by $FLURRY token holders.
FLURRY Finance is planning a full product launch in Q3 2021.
For more information, please visit FLURRY Finance's website or contact Alison Cheng, Digital Marketing Executive, at [email protected].
About Kyber
Kyber Network aims to deliver a sustainable liquidity infrastructure for DeFi. As a liquidity hub, Kyber connects liquidity from various protocols and sources to provide the best rates to takers such as Dapps, aggregators, DeFi platforms, and retail users.
Anyone can contribute liquidity to Kyber Network and Dapps can integrate different protocols depending on their liquidity needs. Using Kyber, developers can build innovative applications, including instant token swap services, ERC20 payment flows, and financial DApps — helping to build a world where any token is usable anywhere.
Kyber is powering more than 100 integrated projects and has facilitated over US$5 billion worth of transactions since its inception.
About Flurry Finance
Flurry Finance was launched to make the DeFi user experience as convenient as possible and improve the usability of DeFi products. Flurry issues rhoTokens that are pegged 1:1 to their underlying stablecoin. rhoTokens are cross-chain interoperable, stable, flexible, and generate profits for users. The Flurry protocol is designed to work across chains and present the optimal fee-adjusted returns for users, automating the tedious task of switching in and out of DeFi products on different chains.
Website: https://flurry.finance 
Telegram: https://t.me/FLURRYFinance_Official 
Telegram News Channel: https://t.me/FLURRYFinance_News 
Twitter: https://twitter.com/FLURRYFi 
Medium: https://medium.com/@FLURRYFi 
Alison Cheng
Flurry
[email protected]
Source: Read Full Article