Donate to Ukraine! Children of Heroes crypto charity campaign goes live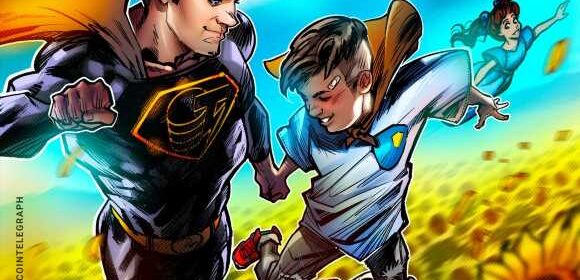 Cointelegraph has announced it is collaborating with the charity fund Children of Heroes to raise money to support children in Ukraine who have lost parents to the devastating Russian invasion. The cryptocurrency fundraiser is now open to receiving donations from all around the globe.
Through the campaign, the crypto community will be able to support programs helping Ukrainian children by donating Bitcoin (BTC), Ether (ETH), Dogecoin (DOGE), Litecoin (LTC) and other popular digital assets. The campaign's initiative is to provide long-term support to over 5,900 beneficiaries, who will remain under the care of the fund until they reach adulthood. Children of Heroes' goal is to help over 10,000 Ukrainian children by the end of 2023, with up to 50 being onboarded daily.
Children of Heroes is a foundation registered as a public charity in the U.S. state of Delaware, meaning all donations are tax-deductible. To donate, simply click on the "Donate" button and follow the instructions below.
Donate to help children affected by the war
Dan Pasko, Children of Heroes' co-founder and a member of its board of directors, joined with several like-minded Ukrainian businesspeople and parents to form an organization to take care of children orphaned by the war. The organization employs 127 staff, who aim to provide access to comprehensive, long-term support in all areas of the children's lives, fostering healing, growth and transformation. 
The campaign focuses on funding initiatives to support the children under the care of the fund. The children receive personalized aid from their "Family Helpers," who provide each and every family and child with one-on-one support and ensure they receive help suited to their unique needs. 
Six core programs make up the fund: emergency aid, essential support, education and development, healthcare, socialization, and mentorship and career planning.
DONATE to children of heroes NOW!
The campaign leverages the platforms Fundraise Up and Stripe to process donations and secure data. Fundraise Up functions as the payment processing platform, sending payments directly to a Coinbase wallet, while all the data is sent directly to Stripe's PCI-compliant servers through SSL. Stripe will not be used to process crypto payments.
Both Children of Heroes and Cointelegraph believe that with the power of the crypto community, the children who receive support will have a fighting chance to overcome the challenges brought by the horrors of the war. Those who want to participate in the campaign can click this link to donate crypto and help provide a better future for Ukrainian children.
Source: Read Full Article