DeFi MarketCap, TVL Is At Its ATH, Has The DeFi Boom Reinstalled?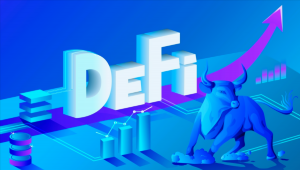 The year 2020 was initially marked as the birth and growth of the very popular Decentralized Finance or DeFi. But as the netizens thought the craze for the DeFi tokens is fading over time, the space spills out with deep colours to prove its dominance. Currently, DeFi space is on the verge to hit 2 milestones, a $150 billion market cap and a $100 billion TVL. 
The DeFi boom was outshined by the bull run of the popular cryptos and more importantly the NFT's. No doubt popular DeFi tokens like Chainlink, Uniswap, were making some headlines, yet the 2020 DeFi craze went missing. Moreover, the market uncertainty in the past couple of months also had fueled the narrow trend.
However, with the resurgence of the current bullish trend, many tokens gained enough momentum to escort the DeFi space to the next levels. Previously, the DeFi market cap smashed $140 billion and amid the market crash had bottomed to $58 billion. However, it bounced back like a giant in a very short time frame.
Also Read: Many Altcoins Are Ready For A Massive Breakout, Analysts List Some Of Them
DeFi Tokens Which Assisted The Rally!
Among the popular DeFi tokens, Chainlink (LINK) price gained more than a 10% jump and is currently heading strongly towards the $35 resistance levels. Pancake (CAKE) price after a slow yet steady uptrend, surges with notable gains, yet ATH remains distinct. Polkastarter (POLS) price after hitting ATH in Februvary, quickly fell into bearish divergence. Yet the uptrend was reinstalled but the pace appears to be lowered. 
However, the leader in the DeFi space with respect to the 24-hour gains is KeeperDAO (ROOK) with a 48.54% jump. Later comes Convex Finance (CVX), Rari Governance Token (RGT) and Perpetual protocol(PERP). Woefully, the leader of the DeFi space, Uniswap(UNI) price is struggling very hard to surpass the $30 mark. 
Collectively, DeFi tokens are currently attempting very hard to maintain their dominance in the crypto space. And by reaching such milestones, the beginning of DeFi 2.0 can be materialized accordingly. Therefore, the DeFi tokens could rally with a notable margin in the upcoming bull rally to define new highs.
Source: Read Full Article