Crypto firms tout 'fictitious' regulatory stamps, Canadian regulator warns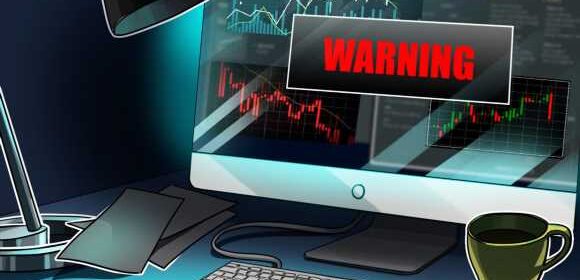 Canadian citizens are being advised to double-check crypto trading service providers as they may be using "fictitious" regulatory bodies to boost their credibility.
According to a June 20 Investor Alert from the Canadian Securities Administrators (CSA) some "purported" crypto platforms are claiming to be approved by certain regulatory authorities or dispute resolution organizations in "an effort to appear legitimate."
"The websites appear to be credible at first glance, with references to complaint processing, dispute resolution and providing redress to aggrieved investors," the CSA said in a statement.
One such website even said its "fictitious certification makes it 'a reliable and trustable online trading platform,'" according to the CSA, adding:
"But upon closer inspection, the websites' language can be awkward and unpolished, with errors in spelling, grammar or syntax — a common 'red flag' of illegitimate entities."
Some "fictitious" regulatory bodies and organizations, as listed by the CSA, include the Financial Standard Commission FSC Canada, Financial Commission/Finacom PLC Ltd., and its associated entity — Blockchain Association.
The CSA claims none of the listed entities are "known," while also suggesting any entity claiming to be a member of the organizations is "likely fraudulent."
Cointelegraph found a list of crypto firms that are touted as members of the "Blockchain Association" on its website — the entity is one of the dispute resolution organizations the CSA accused of being illegitimate.
Cointelegraph contacted Etheralabs, Gallant Exchange, SmartDec, StormGain, YouHodler and Finacom PLC Ltd., Cointelligence and Asia Blockchain for comment but did not receive a response by the time of publication.
"Anyone considering using a crypto firm that claims to be certified or a member of a dispute resolution organization should try to independently verify that the referenced organization actually exists," said the CSA in a statement.
Related: Binance calls it quits in Canada, blames new rules
The regulator also advised that citizens considering investing in crypto should check the firms against those registered with the CSA. There are currently 12 crypto trading platforms authorized to do business in Canada, while there are 11 that have filed pre-registration undertakings.
Though the regulator's statement does not address this, it should be noted that the crypto firms themselves may be victims of the "fake" certifications, and the listing of certification does not necessarily mean a platform is "fraudulent."
The full list of regulatory bodies and entities that have been accused of being "fake" by the CSA include:
Financial Standard Commission FSC Canada
Financial Commission/Finacom PLC Ltd.
Blockchain Association
European Financial Services and Exchange Commission
Crypto Conduct Authority/Crypto Frugal Ltd. (Ireland)
Crypto Conduct Authority/Crypto Frugal Ltd. (U.K.)
International Regulatory & Brokerage E-markets
British Investment Commission/BIC PLC Ltd.
International Financial Market Supervisory Authority
Crypto Commission Authority/Crypto Commission Ltd.
Asia Express: Yuan stablecoin team arrested, WeChat's new Bitcoin prices, HK crypto rules
Source: Read Full Article