Cardano Shows Signs of Recovery: When Will it Reach $0.30?

Cardano (ADA) has shown signs of recovery in recent trading sessions, although its price continues to linger near a significant resistance level. In the past 24 hours, ADA witnessed a modest 2% increase, but weekly gains have been erased, resulting in a 7% depreciation on the weekly chart.
The technical outlook has yet to present bullish signals, with both demand and accumulation remaining relatively low. Bitcoin dominance increased while trading within the $30,000 price range. Major altcoins also experienced minor gains in the past few days. Although Bitcoin displayed a bullish trend, its price fluctuated, and other altcoins followed similar patterns.
For the Cardano price to experience upward movement, Bitcoin must exhibit another surge from its current price level. If ADA manages to sustain above the current support line with the support of BTC, the altcoin may soon attempt to break through immediate price resistance. The decrease in ADA's market capitalization indicates the continued influence of bearish sentiment in the market.
Cardano Price Analysis: One-Day Chart
At the time of writing, ADA was observed to be trading at $0.27, a significant resistance point for the altcoin. Previous price action has indicated that the bulls have faced rejection at this level in the past. Additionally, consolidation has been observed around this price mark.
If ADA continues its upward movement, it may attempt to trade near or even surpass the $0.30 level. However, in the case of extended consolidation, ADA could experience a dip towards its support line at $0.26.
Notably, the $0.26 level has acted as a bullish order block for the coin, indicating a price reversal and subsequent upward movement after reaching this level. This observation suggests the possibility of incoming bullishness for ADA.
Technical Analysis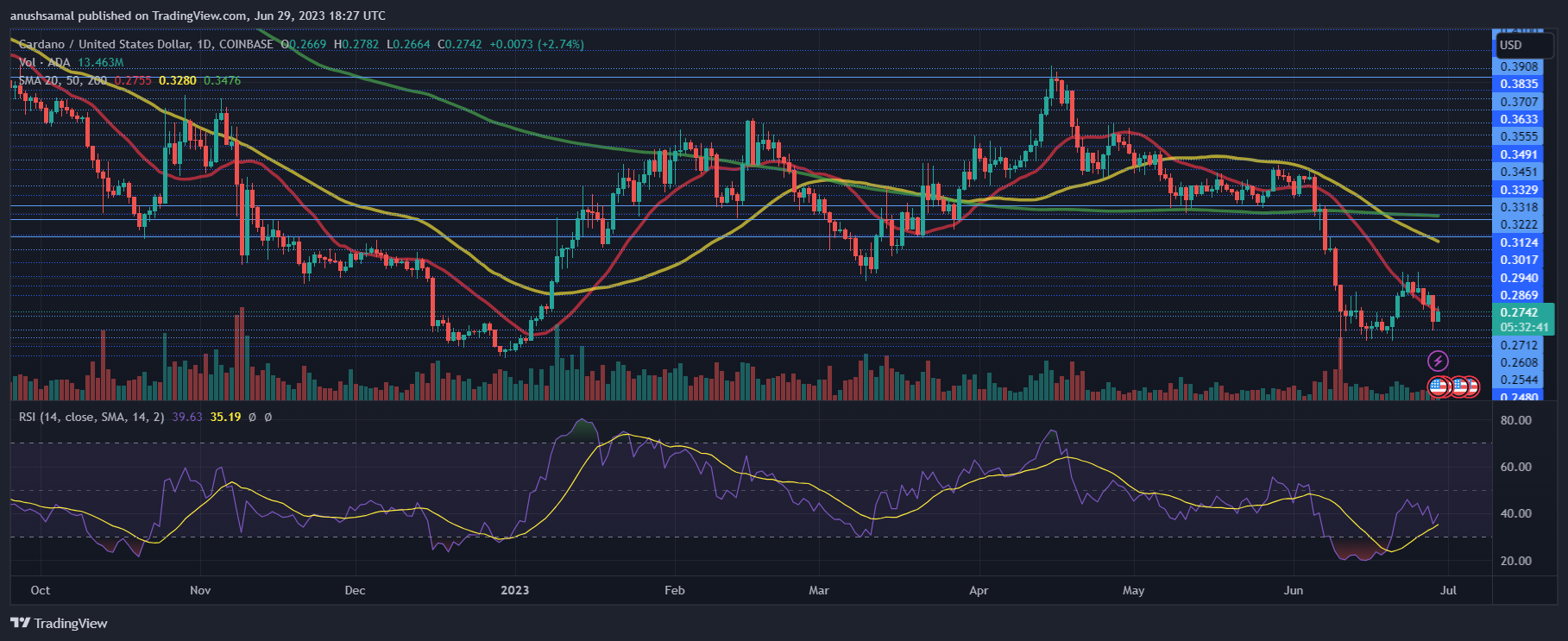 Despite an increase in buying strength, the overall demand for ADA has remained low. This is evident from the Relative Strength Index (RSI) failing to move above the half-line, indicating that sellers have maintained a strong presence in the market.
However, there is an expectation for a potential resurgence in demand if the price manages to surpass the $0.27 zone. Similarly, the price falling below the 20-Simple Moving Average (SMA) line indicates that sellers have been driving the price momentum in the market.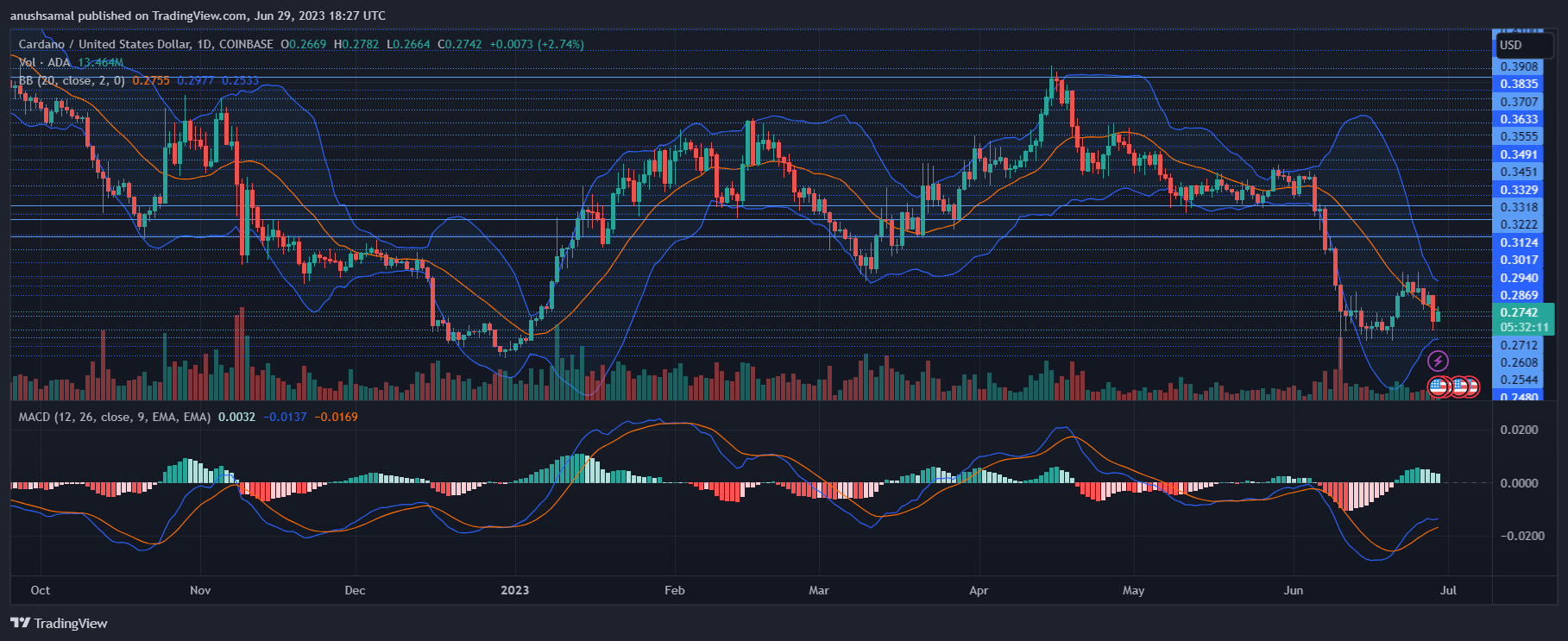 ADA has exhibited buy signals that suggest a potential price reversal in the near future. The Moving Average Convergence Divergence (MACD) has formed green histograms, which are tied to buy signals for the coin. This indicates positive momentum for ADA and suggests a potential upward movement in price.
Additionally, the Bollinger Bands, which provide insights into price volatility and fluctuation, have constricted. This tightening of the bands indicates that the trading range has become tight. Therefore, there is a possibility of a price breakout.
Source: Read Full Article