Bitcoin not a currency? South African central bank governor thinks so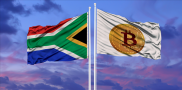 Digital currencies don't meet the three criteria that define a currency, according to the head of South Africa's central bank. Lesetja Kganyago, the governor of the South African Reserve Bank, further called on regulations for the industry, even as the country sees multi-billion dollar BTC scams.
South Africa is one of the continent's leaders in digital currency adoption, ranking behind leader Kenya, Nigeria, and Togo according to the 2021 Chainalysis Global Crypto Adoption Index. The country also boasts of being home to some of the region's largest digital currency startups, led by Bitcoin SV wallet Centbee and exchanges such as VALR.
However, despite this adoption, the head of the country's central bank believes that digital currencies are not currencies. Rather, they are assets, he stated in a recent interview.
Lesetja outlined the three criteria a currency must meet, the first of which is it must be an acceptable medium of exchange. It must also be accepted as a store of value and thirdly, it must be a unit of account.
"A cryptocurrency is a store of value. It is a medium of exchange, but is not generally accepted. It's only accepted by those who are participating in it," he stated.
Lesetja's criticism comes at a time when South Africans have taken to using digital currencies for day-to-day payment, led by the pioneering services offered by Centbee. The Johannesburg-based startup allows users to spend their Bitcoin (BSV) on day-to-day needs such as airtime purchases, paying electricity bills, paying for their Uber rides, online subscriptions such as Netflix and Apple Music, and more. Centbee also integrated bank withdrawals for those that require to convert their BSV into South African rand.
The governor acknowledged the need for regulations in the rapidly growing industry.
"Our approach is that we are going to have to regulate this because people go and invest in cryptos and when they lose money, they ask what government has done about it," he stated.
South Africa has been home to Africa's largest digital currency scams, with none bigger than the Africrypt BTC scam. Two young brothers are alleged to have ran off with $3.6 billion in BTC, even though they have denied the accusations and claimed they were hacked. They did flee the country, which they claimed was because they feared for their lives.
Watch: CoinGeek Zurich panel, Blockchain & the Future of Africa
Source: Read Full Article