World Market Trends At 6 A.M. ET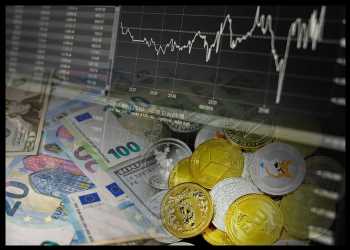 Here is a snapshot of the global markets across stocks, currencies, bonds, commodities and cryptocurrencies.
Omicron, China Evergrande, Bitcoin crash, Fed rate hike, etc. are some of the major factors that impacted trading sentiment as the new week started. Asian stock markets finished mostly negative. European stocks are trading firm. American stock futures are mildly positive. The greenback strengthened as the likelihood of a faster tapering and earlier interest rate tightening increased. Ten-year bond yields mostly moved higher. Crude Oil prices have surged after Saudi Arabia raised prices of their crude. Gold edged down amidst the Dollar's strength. Cryptocurrency sell-off is continuing after the wild crash over the weekend. Bitcoin lost 17 percent in the past week.
Stock Indexes:
DJIA at 34,708.60, up 0.37%
S&P 500 at 4,540.80, up 0.05%
Germany's DAX at 15,191.55, up 0.14%
U.K.'s FTSE 100 at 7,176.95, up 0.77%
France's CAC 40 at 6,804.14, up 0.57%
Euro Stoxx 50 at 4,092.03, up 0.29%
Japan's Nikkei 225 at 27,927.37, down 0.36%
Australia's S&P ASX 200 at 7,245.10, up 0.05%
China's Shanghai Composite at 3,589.31, down 0.50%
Hong Kong's Hang Seng at 23,349.38, down 1.76%
Currencies:
EURUSD at 1.1298, down 0.13%
GBPUSD at 1.3260 up 0.22%
USDJPY at 113.25, up 0.39%
AUDUSD at 0.7028, up 0.39%
USDCAD at 1.2790, down 0.40%
Dollar Index at 96.21, down 0.10%
Ten-Year Govt Bond Yields:
U.S. at 1.387%, up 3.42%
Germany at -0.3795%, down 0.13%
France at -0.021%, up 10.42%
U.K. at 0.7520%, up 0.53%
Japan at 0.037%, down 6.41%
Commodities:
Crude Oil WTI Futures (January) at $68.12, up 2.81%
Brent Oil Futures (February) at $71.67 up 2.56 %
Gold Futures (February) at $1,782.15, down 0.10%
Cryptocurrencies:
Bitcoin at $47,502.55 down 3.64%
Ethereum at $3,949.66, down 5.94%
Binance Coin at $549.17, down 4.64%
Solana at $179.15, down 9.62%
Cardano at $1.28, down 7.26%
Source: Read Full Article