White House Weighs In On SAG-AFTRA Strike, Says President Joe Biden Believes Actors "Deserve Fair Pay And Benefits"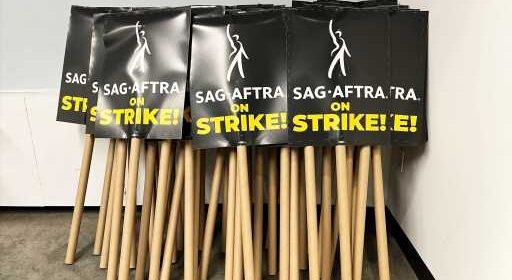 UPDATE: The White House has weighed in on the SAG-AFTRA strike, a prospect that will lead to the shutdown of much of the entertainment business.
"The President believes all workers – including actors – deserve fair pay and benefits. The President supports workers' right to strike and hopes the parties can reach a mutually beneficial agreement," said Robyn Patterson, a White House spokesperson.
In May, President Joe Biden called for striking members of the Writers Guild of America to get "a fair deal they deserve as soon as possible."
PREVIOUSLY: Lawmakers are weighing in on the strike called by SAG-AFTRA, scheduled to start on Friday just after midnight.
Rep. Adam Schiff (D-CA) said in a video posted to social media, "I want you to know I stand with you. This is personal for me. So many of my constituents, so many actors and stunt performers, so many voiceover artists and broadcast journalists, you're my friends and you're my neighbors, and what's more, your fight is the fight for workers all over the country. This is the fight to make the economy work for people again. The industry is very profitable, and you should share in those profits." He said that he would join picket lines "yelling through that bullhorn. I'll be supporting you until you get a deal that you have earned."
Related Stories
SAG-AFTRA President Fran Drescher Says "We Are Being Victimized By A Very Greedy Entity" As Actors Strike Officially Begins Tomorrow
What Happens To Hollywood (And Beyond) If The Actors Go On Strike
Shortly after SAG-AFTRA officials held a press conference on Thursday to announce the strike, Rep. Katie Porter (D-CA) tweeted, "Workers should share in the profits they help create. With studios raking in billions each year, it's unacceptable SAG-AFTRA members are struggling to get by. I stand with the thousands going on strike and urge studios to make a fair deal."
Schiff and Porter, each running to succeed Sen. Dianne Feinstein (D-CA), also backed the writers in their walkout in May, along with another Democratic rival, Rep. Barbara Lee (D-CA).
The White House has not yet commented on the SAG-AFTRA strike. After Press Secretary Karine Jean-Pierre initially declined to wade in on the WGA strike, President Joe Biden did, telling a gathering at the White House in May, when he called for writers to get "a fair deal they deserve as soon as possible."
Must Read Stories
Disney Boss Takes Flak For Dinging Unions, Teases Major TV Revamp & Responds To DeSantis
'Dead Reckoning Part One' Gets 'A' CinemaScore; Here's How Its Five-Day Is Shaping Up
Mike Darnell Departs As President Of Unscripted Television At Warner Bros After 10 Years At Studio
The Overseas Film & TV Projects Impacted By Looming Actors Strike
SAG-AFTRA Strike
WGA, DGA, Teamsters & Others Weigh In On SAG-AFTRA Walkout: "Greedy Studios Have Brought This Strike On Themselves"
SAG-AFTRA Issues Strike Rules With Walkout Set To Begin At Midnight
Read More About:
Source: Read Full Article