What Works For Startups? VC Or Bootstrap?
Bootstrapping has put Nithin Kamath of Zerodha in a position where he can trifle with talk about valuation, points out Suveen Sinha.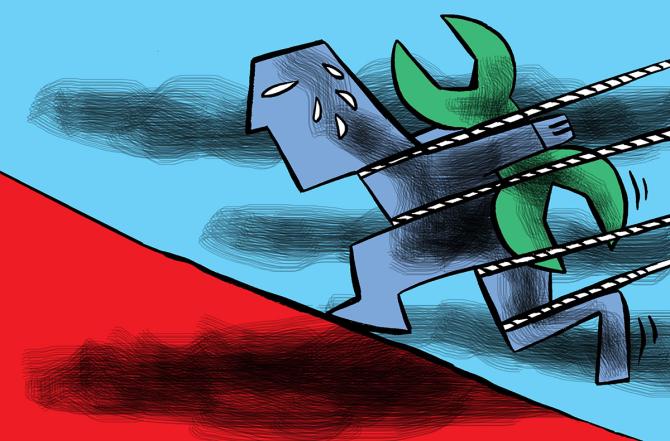 Of the numerous things at which your columnist has failed, an ill-fated stab at a digital news media startup still gnaws at the edges of the mind.
This was about eight years ago, well before 'funding winter' had been coined. Investor money was flowing into India's startups.
As a news manager, I used to scoff at funding announcements of less than $25 million.
We went through sleepless nights, painstakingly prepared a sparkling investor deck, had scores of sessions with well-intentioned advisors, and made several presentations to investors.
In the end, the loftily-named NutGraf had to be buried without an epitaph.
We tripped on the two questions every venture capitalist (VC) asked: How will you scale up?
What will be your valuation in five years?
I told them NutGraf would restore the primacy of deep reportage and research and leverage digital tech at a time when established media houses looked digital-shy and the few online news outfits relied heavily on opinion pieces.
Surely, a credible and unbiased journalism platform offering crackling stories would draw readers in droves.
The VCs had no doubt it would; they only needed to know the path to scale and valuation. They were doing their job. I was not doing mine.
I realised this after reading reams of interviews, podcasts and posts by Nithin Kamath, founder and CEO of the digital stock brokerage platform, Zerodha.
On September 28, in a post on X (formerly Twitter), Mr Kamath appeared to do the unthinkable for a startup founder.
He seemed to trifle with the buzz about Zerodha's valuation.
Most of those assumptions, he said, "are way higher than reality".
He went on to say: "All of us on the core team have never thought of notional valuations right from the start because they can go up and down with market conditions. Focus on ever-changing valuations is a distraction."
The next line was an eye-opener: "The focus has always been on building a resilient business, which means never having to rely on external capital."
It never crossed my mind — given the zeitgeist of the time — that NutGraf could take off without external funding.
True, that would have entailed sacrifices from my family, which had just started to grow.
But one could hunker down and make do with much less money in the interim, during what is called the Valley of Death in the world of startups. That is the bootstrap way.
Look at how Zerodha came about. As Mr Kamath says in a podcast on the website of Blume Ventures (full marks to Blume, a VC firm, for lionising a bootstrapping founder), he had been trading in stocks since the late 1990s.
By 2007-08, he had become active on the internet and ran large Yahoo Messenger groups and Orkut groups on the stock markets.
His brother Nikhil joined him around that time. They thought it would be a good idea to become a broker for active traders who were paying a lot of fees and getting services that did not seem too transparent.
That is how Zerodha was born in 2010. It was meant to be a boutique firm for a small, niche bunch of traders who were active in online communities.
It went on to become the country's largest brokerage.
It is no longer the largest in terms of active users. According to data from the National Stock Exchange, Groww has edged ahead with 6.63 million active clients as of end-September, compared to Zerodha's 6.48 million.
However, as this newspaper reported on October 12, Zerodha remains the country's most profitable brokerage by far, with a net profit of more than Rs 2,900 crore in 2022-23. Groww's net profit in FY23 was Rs 73 crore.
VC-funded firms are good at growing in scale at a rapid pace. That is important, but must be done right.
A few years ago, e-commerce startups used to do a fair bit of chest thumping about GMV, or gross merchandise value, the combined value of all merchandise sold during a specified period.
It had no direct connection with revenues or profits.
Many of those chest thumpers have disappeared or faded. Few talk about the GMV anymore.
A New York Times report of July 2021 describes how Robinhood, one of the biggest growth stories to emerge from Silicon Valley in the United States, became a cultural phenomenon by making it easy to trade in stocks and rose to $8.3 billion in valuation.
It raised billions from investors, and according to the NYT, followed a playbook, at least in part, "of behavioural nudges and push notifications, which has drawn inexperienced investors into the riskiest trading".
The Kamath brothers, on the other hand, are doing what they set out to do, which was to redefine a business.
Zerodha crossed the Valley of Death a long time ago, aided in no small measure by the regulatory nod to e-KYC and online boarding using Aadhaar.
That did away with any need to set up branches, which would have been difficult to do without VC money.
Mr Kamath says Zerodha is the only broker in the country to charge an account opening fee (it is Rs 200).
His rationale is that there is an actual cost incurred while opening an account.
If there was no fee, Zerodha would feel pressured to get a customer to transact to recover that cost.
'Any attempt to explicitly recover this cost could also mean compromising on the many core principles at Zerodha, like the no-spam policy, no revenue targets for the team, and more,' he said in a blog post on his company Web site.
This also puts Zerodha in a position to spend zero money on advertising. And it gives Mr Kamath the confidence to trifle with valuation talk.
Feature Presentation: Aslam Hunani/Rediff.com
Source: Read Full Article