Wedding biz to touch $500 bn in 10 years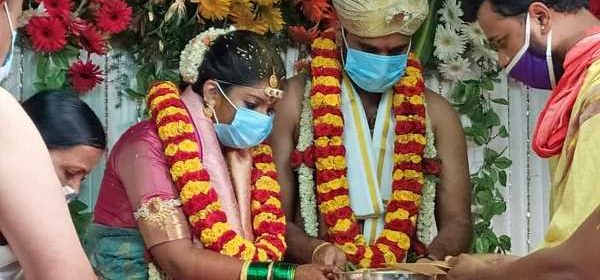 'We expect the wedding services business to grow in triple-digits year on year.'
When the pandemic hit India, the $80 billion wedding industry was one of the worst affected during the initial days.
Murugavel Janakiraman, founder and CEO, Matrimony.com Ltd, one of the leading online players in India, tells Shine Jacob/Business Standard the industry is back on track.
Do you see an impact of Omicron on the sector and is it on the recovery track?
Omicron is yet to have any impact as there are not many cases. Hopefully, India will not get into a third wave.
As far as the business of match-making and wedding services is concerned, in the last five quarters we had a consistent double-digit billing growth and margins also expanded.
During the pandemic, digital adoption in India increased. This translated into a good spike for us. We are the only profit-making company in this category. After Covid, there is demand for tech products. Since there is a strong digital adoption, there is a demand for IT, which poses a challenge.
You recently acquired ShaadiSaga.com. What synergy did this bring to the wedding services business?
We are in the process of integrating ShaadiSaga.com. The segment is still in a nascent stage. We expect the growth momentum to continue.
The wedding services segment was impacted due to Covid because marriages were not happening during the pandemic. There were constraints on how many people can attend a wedding. As a result the business was severely impacted.
In the last six months, the wedding numbers have bounced back and today there are no restrictions. Things are back to normal. We expect the wedding services business to grow in triple-digits year on year.
In this segment, we were strong in the South, while ShaadiSaga.com had a good presence in the North and West. Listing wise, this acquisition led to a lot of benefits. They had around a million social media followers, which will be helpful for us. Plus, the founders have a good pedigree — from IIT. There are supply-side and vendor side advantages, too.
What are your post-Covid growth expectations?
The wedding industry is worth around $80 billion now and is expected to touch $0.5 trillion in less than ten years. India's per capita income is around $2,000 now. With the country expected to grow from $2.5 trillion to $10 trillion in the next ten years, the per capita income is also expected to touch $6,000.
With this the people's spending on weddings is also expected to increase, as it is the most expensive event in any individual's life. Wedding expenses come to around Rs 10 lakh-Rs 12 lakh (Rs 1 million to Rs 1.2 million) per couple and may go up to Rs 30 lakh-Rs 40 lakh (Rs 3 million to Rs 4 million) by then.
We are an over Rs 400 crore (Rs 4 billion) company now and our target is to touch Rs 1,000 crore (Rs 10 billion) in the next couple of years.
What are your expansion plans?
We have a presence in three countries. We have operations in Bangladesh and Sri Lanka. We are in the process of setting up an entity in Sri Lanka by the end of the next quarter.
Muslimmatch.com is a matchmaking service for global Muslims, headquartered in Dubai. We are looking for opportunities in the global arena, especially in South Asian countries.
On the other hand, markets like the US are well-penetrated dating markets. We do not want to look there or in the dating space. We will continuously look for any opportunities for acquisitions. We have a capex of around Rs 10 crore-Rs 12 crore (Rs 100 million to Rs 120 million) as we have an asset-light model.
We also launched an application called Jodii around 40 days ago. This is an application for common people — less literate and non-English speaking. Through this, the people can do match-making in Tamil. We will expand to other languages later.
Source: Read Full Article