Warner Bros. Discovery CFO Gunnar Wiedenfels On Strikes Savings "In Low $100M Range"; Release Dates Remain Fluid, Outlook "Assumes Return To Work In Early September"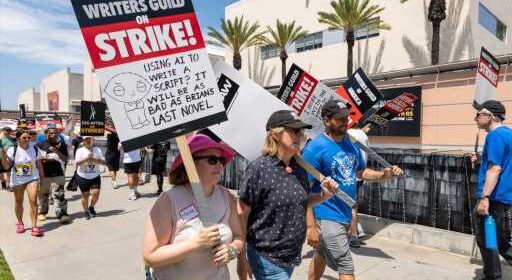 While Warner Bros Discovery CEO David Zaslav on this morning's Q2 earnings call for the conglom is "hopeful that all sides will get back to the negotiating room soon and that these strikes get resolved in a way that the writers and actors feel that they are fairly compensated," WBD CFO Gunnar Wiedenfels served up info that there were "modest cash savings" when it came to the dual strikes.
"We estimate were in the low $100M million range during the quarter," specified Wiedenfels.
This morning for the conglom in Q2, free cash flow was by far the standout financial metric, hitting $1.7 billion, more than double the $789 million from Q2 2022 and outstripping Wall Street forecasts.
Related Stories
Breaking News
Ted Hope: "The Indie Film System Is F**ked" — Locarno
Breaking News
Warner Bros. Discovery Q2 Results Hit By 'The Flash' And Soft Ad Climate, But Free Cash Flow Doubles To $1.7B
Wiedenfels said that WBD's outlook is for another $1.7B to get freed up in cash flow for Q3 with "subsequentially larger savings from the strikes" and the Barbie box office boom (which is approaching $1 billion worldwide). This is poised to put the free cash flow at $4.5B for the year and adjusted EBITA around $11B to $11.5B.
Wiedenfels said that WBD's "modeling assumes early return to work date in early September. Should the strikes run until the end of the year, I would expect several hundred millions in incremental upside to our free cash flow guidance and some incremental downside to our adjusted EBITA."
Wiedenfels did hint on the call, that more theatrical release date changes could be on the horizon.
"The remainder of feature films this year as well as Warner Bros TV production, release dates and performance expectations are naturally fluid given the ongoing strike and we'll evaluate our options and update the market accordingly; we'll see greater vulnerability against our forecast," added the CFO.
"We're hoping these strikes get settled as soon as possible," Zaslav exclaimed to analysts on the call.
"I'm very focused on it, this is our business, this is all we do," he continued on his efforts to solve the strikes.
The entertainment conglom after getting hit with a challenged second quarter is now seeking $5 billion merger savings.
Shareholders slammed Zaslav's compensation for 2022 which totaled nearly $39.3 million in a say-on-pay vote back in May. The year before, in 2021, the figure was $246 million, swelled by a large option grant.
Must Read Stories
WB Q2 Results Hit By 'The Flash', Soft Ad Climate; Studio Says Strikes Have Saved $100M+
Ted Hope On Strikes, Studios & Indie Biz; SAG-AFTRA Election; Picketers Latest
Lizzo Responds To "Outrageous" Sexual Harassment & Discrimination Allegations
'Days Of Our Lives' Cast Calls For Change As More Details Emerge Around Co-EP Albert Alarr
Read More About:
Source: Read Full Article