U.S. Stocks May Move To The Downside Amid Inflation Concerns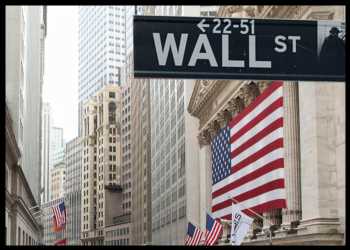 Following the mixed performance seen in the previous session, stocks may move to the downside in early trading on Wednesday. The major index futures are currently pointing to a lower open for the markets, with the S&P 500 futures down by 0.6 percent.
Inflation concerns may weigh on Wall Street following yesterday's report showing consumer price inflation slowed by less than expected in January.
The inflation data has led to worries the Federal Reserve may raise interest rates higher than currently anticipated in an effort to combat elevated inflation.
Potentially giving the Fed confidence that it can continue raising rates without significantly damaging the economy, the Commerce Department released a report this morning showing a substantial increase in U.S. retail sales in the month of January.
The report said retail sales spiked by 3.0 percent in January after tumbling by 1.1 percent in December. Economists had expected retail sales to jump by 1.8 percent.
Excluding a surge in sales by motor vehicle and parts dealers, retail sales still shot up by 2.3 percent in January after falling by a revised 0.9 percent in December.
Ex-auto sales were expected to increase by 0.8 percent compared to the 1.1 percent slump originally reported for the previous month.
A separate report released by the Federal Reserve Bank of New York showed a significant slowdown in the pace of contraction in regional manufacturing activity in the month of February.
Just before the start of trading, the Federal Reserve is scheduled to release its report on industrial production in the month of January. Industrial production is expected to increase by 0.5 percent in January after falling by 0.7 percent in December.
The Commerce Department is also due to release its report on business inventories in the month of December shortly after the start of trading. Economists expect business inventories to rise by 0.4 percent.
Additionally, the National Association of Home Builders is scheduled to release its report on homebuilder confidence in the month of February. The housing market index is expected to inch up to 37 in February from 35 in January.
After seeing considerable strength in Monday's session, stocks went on a volatile ride on Tuesday that saw the major averages finish on opposite sides of the unchanged line.
While the tech-heavy Nasdaq climbed 68.36 points or 0.6 percent to 11,960.15, the Dow fell 156.66 points or 0.5 percent to 34,089.27 and the S&P 500 edged down 1.16 points or less than a tenth of a percent to 4,136.13.
In overseas trading, stock markets across the Asia-Pacific region moved mostly lower during trading on Wednesday. Japan's Nikkei 225 Index fell by 0.4 percent, while Hong Kong's Hang Seng Index tumbled by 1.4 percent.
Meanwhile, the major European markets have moved to the upside on the day. While the French CAC 40 Index is up by 1.0 percent, the German DAX Index is up by 0.5 percent and the U.K.'s FTSE 100 Index is up by 0.1 percent.
In commodities trading, crude oil futures are sliding $0.85 to $78.21 a barrel after slumping $1.08 to $79.06 a barrel on Tuesday. Meanwhile, an ounce of gold is trading at $1,842.90, down $22.50 compared to the previous session's close of $1,865.40. On Tuesday, gold inched up $1.90.
On the currency front, the U.S. dollar is trading at 133.78 yen compared to the 133.16 yen it fetched at the close of New York trading on Tuesday. Against the euro, the dollar is trading at $1.0695 compared to yesterday's $1.0738.
Source: Read Full Article