Two Assistant Directors Create Strike Fund For Production Assistants: "They Have Been Forgotten"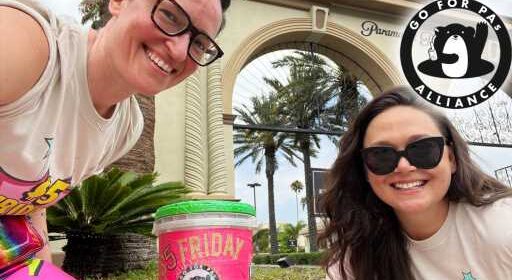 A pair of former production assistants-turned-assistant directors have created a nonprofit in hopes of providing financial aid to PAs who've been put out of work due to the strike.
Katie Hacker and Andrea Block argue that most PAs don't qualify for most of the strike relief that's available out there — not to mention how they are already the lowest paid crew members on TV and film projects. Once work resumes, the women argue, PA paychecks will be much smaller than those of the rest of the crew — making it harder for them to recover from the strike.
That's why Hacker and Block formed the Go for PAs Alliance in July.
Related Stories
WGA Slams Studios' Latest Offer & Meeting As Attempt To Make Guild "Cave"; "Not To Bargain, But To Jam Us"
15 Movies About Labor Unions And Strikes – Photo Gallery
"Our entire industry is in this together, and we feel strongly that the little guys should not be ignored in this conversation," the women, both of whom went through the DGA training program, said in a statement.
The 501c3 status for the nonprofit org was just approved by the IRS. Hacker and Block, who worked on Max's Minx before the strike began, said they recognized the need for a fund after realizing how hard it was to find temporary work during the work stoppage.
"We were noticing that our skills don't seem to be transferable to other industries because no one really quite understands what goes on in the movie industry unless you're in it," Hacker says to Deadline. "As assistant directors, we're basically like project managers and we manage a lot of staff and we run the show and we budget, but none of those things were translating. We couldn't get jobs, even entry level jobs. And so we were thinking, 'well, if this is the case for us and I have a master's degree, what does this mean for the PAs who are completely entry level and don't have more advanced skill sets?"
Hacker and Block aren't the only ones looking out for production assistants. As Deadline reported Tuesday, folks in front of and behind the camera on Chicago P.D. are giving $1,500 each to 13 PAs on the NBC series. The campaign was organized by Chicago P.D. First AD Richard White, with stars Patrick John Flueger, Marina Squerciati, Amy Morton and Tracy Spiridakos, executive producer/showrunner Gwen Sigan, writer/executive producer Gavin Harris and writer/co-executive producer Scott Gold among those who have contributed.
Hacker and Block are taking donations now. For more information, go to www.goforpasalliance.org.
Must Read Stories
Six Takeaways From British TV Festival: Strike Ripples, Commissioner Slowdowns & More
WGA On AMPTP's Latest Contract Offer: "Neither Nothing, Nor Nearly Enough"
'Dune: Part Two' Deserts 2023 Slot; 'LOTR: War Of The Rohirrim' Pushed
Mug Shot Released After Arrest In Georgia On Charges Tied To 2020 Election
Writers Guild Strike
WGA Says AMPTP's Latest Contract Offer "Is Neither Nothing, Nor Nearly Enough"
Writers Strike Takes Center Stage In WGA East's Officer & Council Election
Read More About:
Source: Read Full Article