Turkey-Syria Quake Death Toll Nearing 10000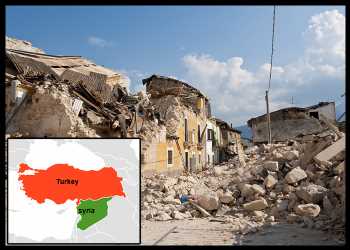 The death toll from the massive earthquake near the Turkey-Syrian border is fast approaching the 10000 mark as rescuers are battling heavy rain and snow to find survivors.
Turkey's Disaster Coordination Center (AKOM) put the death toll in the country at 7108 and the number of those injured at 40910.
Syrian state media and a rescue group say more than 2500 people died in government-controlled and rebel-held regions in Syria.
With hundreds of people still trapped under the rubble, and freezing cold conditions hindering rescue efforts, the death toll is likely to rise further, according to aid agencies and emergency workers.
Rescue teams worked through another freezing-cold night in a desperate race against time to save survivors trapped under debris of thousands of buildings collapsed in a 7.8-magnitude earthquake that struck in the early hours of Monday.
Damaged roads have also made it difficult for aid to reach rural areas. Survivors who are left without shelter in freezing weather told media that their life is in danger due to hunger and cold.
In some places across southern Turkey and northern Syria temperature is measured in minus degree centigrade. The weather is projected to get even colder in coming days.
Amid mounting criticism over official response and the slow speed of rescue efforts, Turkish President Recep Tayyip Erdogan arrived at the disaster zone Wednesday. He is visiting the worst-hit regions of Kahramanmaras, Hatay and Pazarcik, according to the president's office.
Erdogan declared a three-month state of emergency in ten provinces devastated by the quake.
More countries including Italy, Ukraine, Israel, and Taiwan have deployed their personnel to support rescue efforts in quake-hit areas.
Source: Read Full Article