The Drunkest Cities in America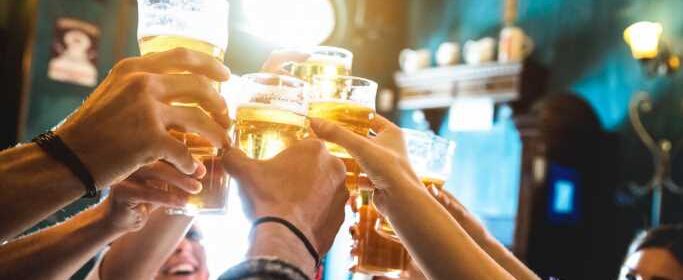 America has an alcohol problem. Drinking too much is the third leading preventable cause of death in the U.S. The CDC says alcohol contributes to over 140,000 deaths yearly from 2015-2019. In some cities and regions, the issue is much worse than others. (To take just one peril of excessive drinking, deaths from alcohol-related cirrhosis have gone up almost every year since 2000.)
To identify the metro areas with the highest rates of excessive drinking, 24/7 Tempo reviewed data on the percentage of adults 18 and older who reported binge or heavy drinking within a 30-day period across all metro areas in the country from the 2023 County Health Rankings & Roadmaps, a Robert Wood Johnson Foundation and University of Wisconsin Population Health Institute joint program.
One in six U.S. adults binge drink – defined as 5+ drinks for men or 4+ for women in one occasion, with 25% doing so at least weekly. In the cities on our list, the rate of excessive drinking tops 22%, much higher than the 19.79% U.S. average.
Binge drinking is most common among higher income, non-Hispanic white adults and those in the Midwest. In fact, seven of the top 10 cities are in the Midwest. Wisconsin has the most cities in the top 50 with 12, followed by Iowa with six. Florida, a popular spring break destination, has five cities on the list. Some cities with major universities are on the list too, like Boston, Ames, Burlington, and Syracuse. (These are the states with the highest rates of binge drinking.)
Click here to see the drunkest cities in America
Sponsored: Find a Qualified Financial Advisor
Finding a qualified financial advisor doesn't have to be hard. SmartAsset's free tool matches you with up to 3 fiduciary financial advisors in your area in 5 minutes. Each advisor has been vetted by SmartAsset and is held to a fiduciary standard to act in your best interests. If you're ready to be matched with local advisors that can help you achieve your financial goals, get started now.
Source: Read Full Article