PepsiCo's Frito-Lay Recalls Wavy Lay's Original Potato Chips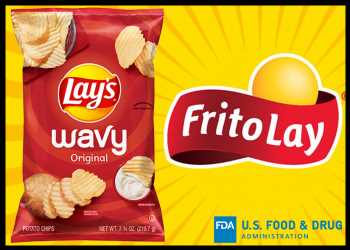 Frito-Lay North America, the convenient foods division of food and beverages giant PepsiCo, Inc., has recalled a limited number of Wavy Lay's Original Potato Chips citing undeclared milk ingredients, a known allergen, the U.S. Food and Drug Administration said.
The recall involves 31 bags of 7 3/4 oz. or 219.7 grams Wavy Lay's Original Potato Chips with UPC code 0 28400 04380 9. They have either "Guaranteed Fresh" date of 02 Nov 2021 and the Manufacturing Code 1712 17944 85 21:30 or "Guaranteed Fresh" date of 19 Oct 2021 and the Manufacturing Code 1713 20044 18 03:37.
The products were distributed to certain retail stores in North Carolina, South Carolina and Virginia. Consumers would have purchased them as early as July 23, 2021.
No other Lay's products, flavors, sizes or variety packs are recalled.
The recall was initiated after an investigation following a consumer contact.
According to the agency, the affected products may contain undeclared milk ingredients. Those with an allergy or severe sensitivity to milk may get serious or life-threatening allergic reaction if they consume product contained inside the recalled bags.
However, the company has not received any reports of allergic reactions related to the recalled products to date.
Frito-Lay in May had called back select Ruffles All Dressed Potato Chips for undeclared milk ingredients.
In other similar recalls, Kraft Heinz Foods Co. in mid May recalled around 13,504 pounds of a frozen foodservice soup product for undeclared milk and eggs.
Source: Read Full Article