Netflix Adds 'My Netflix' Mobile Feature To Help Users Organize Downloads And More Easily Resume Viewing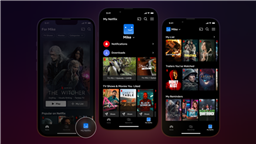 Netflix is rolling out a new feature called My Netflix, which will replace the Downloads tab on the bottom right of the home screen on iOS apps starting today.
The new area will be a personalized home for downloads and ongoing viewing, with the goal of streamlining the viewing experience. After starting on mobile devices (Android will be added in the coming weeks), Netflix plans to evaluate a potential expansion to connected devices for TV viewing. For now, though, the primary use of the feature will be for making on-the-go viewing selections, which are also available on other devices.
Related Stories
Breaking News
Netflix Adds 5.9M Subscribers In Q2, More Than Doubling Expectations; Effort To Limit Password Sharing Expands To Most Of The World
Breaking News
Netflix's Ted Sarandos Says He Knows Pain A Strike Can Bring; "Super Committed" To A Deal With WGA & SAG-AFTRA, Co-CEO Claims
In a blog post, Product Manager Edith Chao described My Netflix as "a one-stop shop tailored to you with easy shortcuts to help you choose what you want to watch." The algorithmic nature of Netflix comes into play with the new feature, though My it isn't really designed to push recommendations, unlike the home screen.
"The more you interact with and tell Netflix what you like," Chao wrote, "the more you'll see on the My Netflix tab."
Netflix last week reported quarterly numbers, far exceeding Wall Street forecasts by adding 5.9 million subscribers, reaching more than 238 million worldwide. The company is also leaning into advertising and paid password sharing, with execs saying both major initiatives have shown early progress.
Despite the positive momentum, Netflix shares have shed about 10% of their value since last Wednesday's earnings release. While analysts generally remain positive on the company, several noted that revenue was lagging the subscriber additions, though the prevailing sentiment is that advertising and password sharing revenue will inject billions into the company in the coming years.
Must Read Stories
Barbenheimer Fuels Massive $300M+ Weekend; $511M+ Global; Gerwig Sets Record
AOC Hits Picket Lines In NYC: "How Many Private Jets Does David Zaslav Need?"
High-Profile UK Trial Goes To The Jury: Here's How It Has Played Out So Far
France Proposes New Media Law As Vincent Bolloré's Influence Grows
Read More About:
Source: Read Full Article