DOT Unveils New Dashboard To Help Parents Avoid Junk Fees For Family Seating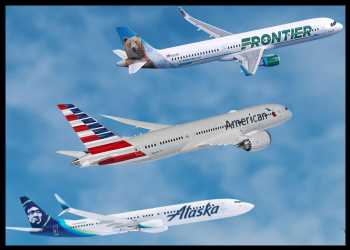 The Department of Transportation has rolled out a new family seating dashboard that highlights the U.S. airlines that guarantee fee-free family seating and those that do not.
This reform will make it easier for parents to avoid paying junk fees to sit with their children. This is an added feature to the existing dashboard, which already includes services for delayed and canceled flights.
White House Press Secretary Karine Jean-Pierre said DOT has already begun work on a commonsense rulemaking to ban airlines from charging families junk fees to sit together.
At a routine media briefing, she said as recently as a month ago, no U.S. airlines guaranteed fee-free family seating.
"Now, after the Biden administration pressed airlines to improve customer service, American Airlines, Alaska Airlines, and Frontier Airlines have stepped forward to guarantee that parents can sit with their young children without getting nickel and dimed," she told reporters.
"Parents traveling with young kids should be able to sit together without an airline forcing them to pay junk fees," said U.S. Transportation Secretary Pete Buttigieg. "We have been pressing airlines to guarantee family seating without tacking on extra charges, and now we're seeing some airlines start to make this common-sense change. All airlines should do this promptly, even as we move forward to develop a rule establishing this as a requirement across the board."
Last summer, Secretary Buttigieg pressed U.S. airlines to do more for passengers who had a flight canceled or delayed because of the airline. He informed the CEOs of the 10 largest U.S. airlines that the Department would publish a dashboard on amenities and services provided such as rebooking, meals, or hotels in the event of a controllable delay or cancellation.
Prior to his urging, none of the 10 largest U.S. airlines guaranteed meals or hotels when a delay or cancellation was within the airlines' control, and only one offered free rebooking. Now, all 10 airlines guarantee meals and rebooking, and nine guarantee hotels when an airline issue causes a cancellation or delay.
The DOT's family seating dashboard provides a clear comparison of services the airlines have committed to provide, that will assist consumers when deciding which airline to fly. It makes it easier to know which airlines have stepped up and guarantee adjacent seats for young children traveling with an accompanying adult at no additional cost and which airlines do not.
Since most airlines in the United States currently do not guarantee that they will seat a parent and a child together at no extra cost, the DOT has begun work on a rulemaking to ensure a young child is able to sit adjacent to an accompanying adult. Because the rulemaking process can be lengthy, President Joe Biden has called upon Congress to enact legislation.
The Biden Administration plans to send Congress proposed legislation in the coming weeks, according to the U.S. Department of Transportation.
Source: Read Full Article