Disney Stock Slips After Media Giant Unveils Plan To Double Spending On Theme Parks To $60B Over Next 10 Years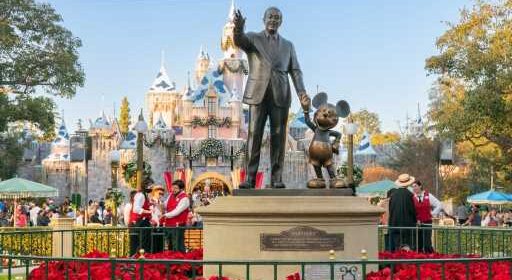 Disney shares pulled back in early trading after the media giant unveiled a comprehensive plan to double its investment in theme parks to $60 billion over the next 10 years.
The stock, which has recently reached a 9-year low just below $80, declined nearly 3% to $82.75 on the news.
In an SEC filing, slide presentation and blog post, the company laid out its vision. The message was delivered as CEO Bob Iger and Disney Parks, Experiences and Products Chairman Josh D'Amaro meet with Wall Street analysts and investors at Walt Disney World Resort in Orlando, FL for a parks-themed summit. In essence, the company believes its theme parks are humming along but could evolve into an even more potent engine of profitability.
Related Stories
Streaming
'Elemental' Scores Biggest Disney+ Movie Premiere Since 'Turning Red'
Theme Parks
Walt Disney World Shuts Some Attractions After Bear Spotted, Later Captured In The Park
The strategic focus for Disney in recent weeks has been elsewhere, notably on legacy media assets like linear TV networks and ESPN, and the financial vulnerabilities they bring. The company has fielded interest in ABC, its eight local TV stations and other linear holdings from Nexstar Media Group as well as from Byron Allen. DPEP has provided bright spots in recent quarterly reports, but has been less of a focus for investors than the years-long question about the best business model for streaming, or how much the company will owe Comcast for its one-third stake in Hulu.
On the company's most recent earnings call with analysts, Iger was asked about the possibility of splitting the company in two, in order to make the media side and parks side more coherent and compelling to investors. Iger declined to speculate.
The push into parks also comes in a politically sensitive moment, especially in Florida. Gov. Ron DeSantis and Iger have engaged in a war of words in recent months. DeSantis has attacked the company as "Woke Disney" for its stance on LGBTQ+ issues, while Iger has threatened a long-term pullback from job-generating activities in the state. "Does the state want us to invest more, employ more and pay more taxes or not?" Iger asked rhetorically last May.
In the blog post, the company said the investment-heavy strategy will center on "stories, scale, and fans."
DPEP revenue is on pace to reach $32.3 billion in the current fiscal year, up from $23.5 billion in fiscal 2017, with operating income climbing to $9.2 billion from $6 billion over that same span.
Covid-19 forced the shuttering of the parks, along with cruise ships and resorts, for several months in 2020, with variants and recurrences of the virus forcing select shutdowns into 2022.
In addition to highlighting that comeback and growth story, the blog post makes the case that there are many more horizons for the company to explore.
"In addition to development plans already underway, there is significant room for further expansion on land and at sea," the post says. "In fact, Disney Parks has over 1,000 acres of land for possible future development to expand theme park space across its existing sites – the equivalent of about seven new Disneyland Parks."
Disney parks currently host about 100 million guests a year, according to the company. Citing internal research, the blog post said there is an addressable market of more than 700 million people "with high Disney affinity" who have yet to be reached with parks. "In fact, for every one guest who visits a Disney park, there are more than 10 people with Disney affinity who do not visit the parks," it added.
Cruise ships represent another part of the growth initiative. As it has previously announced, Disney plans over the next two years to nearly double the worldwide capacity of its cruise line, adding two ships in fiscal 2025 and another in 2026. A new homeport in Singapore will open in 2025, expanding DPEP's reach into the Asia-Pacific region.
Must Read Stories
BBC Removes Content; Ads Suspended On Presenter's YouTube Channel
Elon Musk Floats "Small Monthly Payment System" For Anyone To Use X
Gavin Newsom Says He Has Talked With WGA & Studios, Will Meet With Them "This Week"
Suspends Nonwriting Producer Deals; Assistants & Execs Paid Through At Least September
Read More About:
Source: Read Full Article