Countries With The Largest Naval Fleets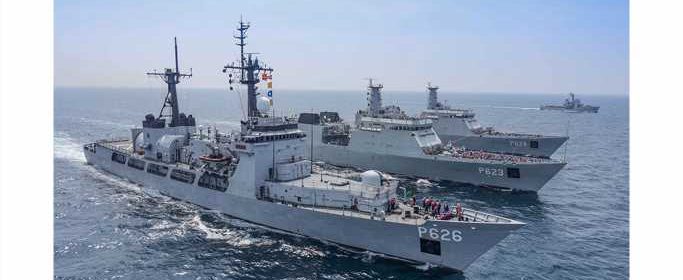 When the British sang the patriotic song "Rule Britannia! Britannia rule the waves," it was as much a statement of fact as a boast. The British no longer have the world's biggest fleet, and the United States doesn't either.  
To determine the countries with the largest fleets, 24/7 Wall St. reviewed defense statistics website GlobalFirepower's 2023 naval forces database with information about 145 countries' militaries. We ranked countries according to the number of naval vessels in their military, starting at 150 vessels, and included the number of vessels in four classes of vessels. Data on notable ships came mostly from Military Factory, among other sources. Data on total military spending and military spending as a percentage of gross domestic product, came from Stockholm International Peace Research Institute's Military Expenditure Database.
Following a relentless military buildup, China now has the world's largest navy. This is cause for concern for Taiwan, which is about 100 miles east across the Taiwan Strait from the Chinese mainland. China has more submarines, destroyers, frigates, and corvettes than any other nation. Russia, traditionally a land power that has historically sought ice-free ports, is second in total vessels. 
North Korea, which has the third-most offshore patrol boats behind Sweden and Indonesia, ranks third. Sweden and Indonesia have such a high number of offshore patrol boats because they are needed to keep vigil over their unique coastlines. (These are the 35 different ships and submarines in Indonesia's navy.
The U.S. is fourth, buttressed by 11 aircraft carriers, more than any other country. In terms of quality and firepower, the U.S. Navy has no equal in the world. (Here are 11 new warships that will join the U.S. Navy fleet.)
The Royal Navy (U.K.), the world's most powerful until World War II, is not even among the top 21 largest navies at sea. How times have changed.
Click here to see countries with the largest naval fleets.
Sponsored: Find a Qualified Financial Advisor
Finding a qualified financial advisor doesn't have to be hard. SmartAsset's free tool matches you with up to 3 fiduciary financial advisors in your area in 5 minutes. Each advisor has been vetted by SmartAsset and is held to a fiduciary standard to act in your best interests. If you're ready to be matched with local advisors that can help you achieve your financial goals, get started now.
Source: Read Full Article