Congressman-Elect Luke Letlow Dies Of Complications From Covid-19; Lawmakers Pay Tribute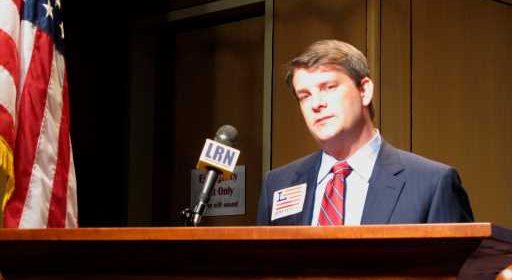 House leaders paid tribute to Luke Letlow, the 41-year-old congressman-elect from Louisiana who died on Tuesday after being hospitalized for complications from Covid-19. He was set to take office next week.
Andrew Bautsch, a spokesman, confirmed to the Associated Press that Letlow died at Ochsner-LSU Health Shreveport.
"Our hearts break tonight as we process the news of Congressman-elect Luke Letlow's passing," wrote House Minority Leader Kevin McCarthy (R-CA). "I spoke with his wife, Julia. Judy and I are praying for her and their two young children during this terrible time."
House Speaker Nancy Pelosi said in a statement, "Congressman-elect Letlow was a ninth generation Louisianan who fought passionately for his point of view and dedicated his life to public service. As the House grieves Congressman-elect Letlow's passing, our sorrow is compounded by the grief of so many other families who have also suffered lives cut short by this terrible virus. May it be a comfort to Luke's wife Julia and their children Jeremiah and Jacqueline that so many mourn their loss and are praying for them at this sad time."
Letlow, a Republican, is the first person elected to Congress to die from Covid-19 complications.
On Dec. 21, as he was hospitalized, he urged donations of convalescent plasma. "For those who've had Covid already, your plasma is ESPECIALLY needed by those who are suffering. I cannot stress this enough. Please consider saving lives by going out and donating at your local blood bank," he wrote.
On Dec. 21, he also posted on Twitter a story about the rare "Christmas star" — an astrological phenomenon from the rare alignment of Jupiter and Saturn, with the message, "A beautiful reminder that Christ came to give all of us hope!"
A doctor at the hospital told The Advocate that Letlow did not have any underlying conditions. The doctor said on Dec. 23 that he had been treated with Remdesivir and steroids.
Letlow is survived by his wife Julia and two children.
Read More About:
Source: Read Full Article