Beyonce, The Queen Of The Grammys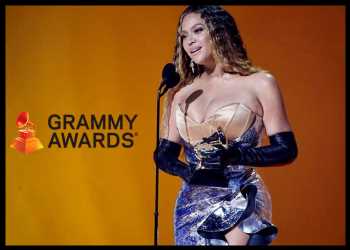 Pop queen Beyonce is now the queen of the Grammys too.
After winning the award for Best Dance/Electronic Music Album at the 2023 Grammys, she became the most awarded artist in Grammys history.
Until Sunday, Beyonce was sharing the all-time record for most Grammy wins with Hungarian classical conductor George Solti. Her win for Best Dance/Electronic Album for celebrated euphoric album "Renaissance" put her Grammy total at 33, the most of all time.
Beyonce arrived at the stage for acceptance speech to a standing ovation and applause. After thanking God and her family, she highlighted a group that made a special impact on this record.
"I'd like to thank the queer community," she smiled, crediting the early voices in the dance and electronic realm. She also thanked her late uncle Jonny, who helped make her stage outfits, and inspired Renaissance. In host Trevor Noah's eyes, the conversation about who is considered the GOAT to be over, Beyonce's legacy is far from finished.
In all, Beyonce won four prizes this year. But as she was late after getting stuck in downtown Los Angeles, the award for Best R&B Song was instead accepted on her behalf.
Beyonce had already marked another record: tying her husband Jay-Z as the most nominated artists in Grammy history.
Despite becoming the most-crowned artist at the Grammys, Beyonce lost the coveted album of the year award for the fourth time – this year to Harry Styles.
The British star closed out an epic night at the 2023 Grammys with his biggest career win, Album Of The Year, for his third LP, Harry's House.
Styles delivered a heartfelt speech. "I've been so so inspired by every artist in this category with me at a lot of different times in my life," he said. "I think on nights like tonight it's obviously so important for us to remember that there is no such thing as 'best' in music… This doesn't happen to people like me very often and this is so, so nice," he added.
Source: Read Full Article