Bernie Sanders Launches Senate Investigation Into Amazon's Labor Practices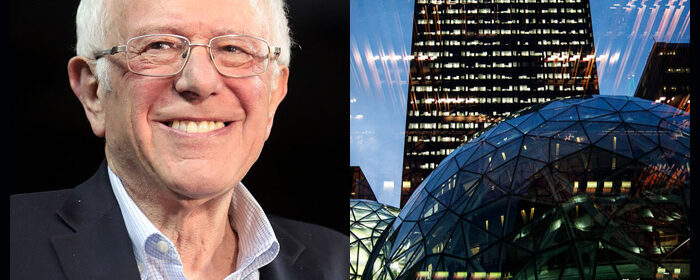 Independent Senator Bernie Sanders of Vermont has initiated an investigation into Amazon's (AMZN) labor practices, citing dangerous and illegal conditions at the company's warehouses.
In a letter addressed to Amazon CEO Andy Jassy, Sanders expressed concern and called for improved safety measures. The investigation is led by the Senate Health, Education, Labor and Pensions Committee or HELP, which Sanders chairs.
Sanders took to Twitter to announce the investigation, stating, "Today, I launched an investigation into Amazon's disastrous safety record." He highlighted the incongruity between Amazon's status as one of the world's most valuable companies, owned by Jeff Bezos, one of the richest individuals, and the perilous working conditions within its facilities.
The HELP Committee has created a dedicated website where current and former Amazon employees can confidentially share their workplace experiences, aiming to support the Senate's inquiry into worker protection and the company's accountability for necessary medical care.
In his letter, Sanders criticized Amazon's pursuit of profits at the expense of employee well-being, emphasizing unsafe working environments, excessive work rates, and insufficient medical attention for tens of thousands of workers annually.
Amazon spokesperson Steve Kelly responded to the allegations, stating, "We've reviewed the letter and strongly disagree with Senator Sanders' assertions," while extending an invitation for Sanders to tour an Amazon facility.
Amazon has faced longstanding criticism regarding its labor practices, including reports of workers resorting to urinating in bottles to avoid breaks as early as 2021. The company has also witnessed strikes, Occupational Safety and Health Administration violations, and an increase in workplace injuries.
According to a press release from the HELP Committee, in 2022, Amazon employees "suffered more serious injuries than all other warehouse workers in the country combined," despite the company employing only about a third of the country's warehouse workforce. Amazon's "serious injury rate" is double the industry average for warehousing.
Kelly defended Amazon's commitment to employee safety, noting a 23% reduction in recordable injuries across U.S. operations since 2019. He mentioned that over $1 billion has been invested in safety initiatives, projects, and programs in the last four years, with ongoing dedication to improving employee safety.
Earlier this year, Sanders launched a similar investigation into Starbucks' labor practices in response to ongoing store unionization efforts.
Source: Read Full Article