Asian Markets Track Global Markets Higher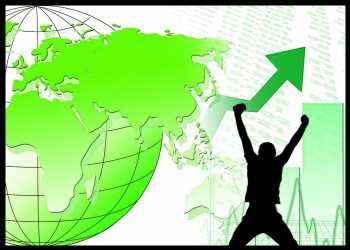 Asian stock markets are trading mostly higher on Monday, following the broadly positive cues from global markets on Friday, with traders looking to pick up stocks at reduced levels following recent weakness. Data showing a bigger than expected in US jobs addition in the month of April has fueled hopes that the US Fed will hold rates steady in the near future. Asian markets closed mixed on Friday.
The Australian stock market is notably higher on Monday, extending the gains in the previous session, with the benchmark S&P/ASX 200 staying above the 7,200 level, following the broadly positive cues from global markets on Friday, with gains across most sectors, led by energy and mining stocks.
The benchmark S&P/ASX 200 Index is gaining 49.10 points or 0.68 percent to 7,269.10, after touching a high of 7,292.40 earlier. The broader All Ordinaries Index is up 50.70 points or 0.68 percent to 7,463.80. Australian stocks closed modestly higher on Friday.
Among the major miners, Rio Tinto and Fortescue Metals are gaining almost 2 percent each, while Mineral Resources is advancing 3.5 percent and BHP Group is adding more than 1 percent.
Oil stocks are mostly higher. Woodside Energy is gaining almost 3 percent and Origin Energy is edging up 0.1 percent, while Santos and Beach energy are adding almost 2 percent each.
Among tech stocks, Xero is gaining almost 1 percent, Zip is adding more than 1 percent and WiseTech Global is edging up 0.3 percent, while Afterpay owner Block is losing more than 5 percent and Appen is down almost 2 percent.
Gold miners are mixed. Gold Road Resources is edging up 0.3 percent and Resolute Mining is gaining almost 1 percent, while Evolution Mining and Northern Star Resources are losing almost 1 percent each. Newcrest Mining is down more than 1 percent.
Among the big four banks, Commonwealth Bank is gaining almost 1 percent, while National Australia Bank and Westpac are adding almost 2 percent each. ANZ Banking is edging down 0.1 percent. Westpac reported a profit of $4 billion for the first-half that surged 22 percent from last year. The bank also boosted dividend by 15 percent.
In other news, shares in Lynas are surging more than 10 percent after the rare earths miner's license to import and process lanthanide concentrate was extended by the Malaysian government.
In the currency market, the Aussie dollar is trading at $0.676 on Monday.
The Japanese stock market is notably lower on Monday after a long weekend, snapping a four-session winning streak, with the Nikkei 225 falling below the 29,000 mark , despite the broadly positive cues from global markets on Friday, with weakness across most sectors as the markets are catching up with their global peers after a three-day holiday.
The benchmark Nikkei 225 Index closed the morning session at 28,969.68, down 188.27 or 0.65 percent, after hitting a low of 28,935.56 earlier. Japanese shares ended slightly higher on Tuesday prior to the holidays on Wednesday, Thursday and Friday.
Market heavyweight SoftBank Group is losing more than 1 percent and Uniqlo operator Fast Retailing is down 2.5 percent. Among automakers, Honda is edging down 0.4 percent and Toyota is losing almost 1 percent.
In the tech space, Screen Holdings is edging up 0.5 percent, while Tokyo Electron is edging down 0.2 percent. Advantest is flat.
In the banking sector, Sumitomo Mitsui Financial is losing almost 1 percent, Mitsubishi UFJ Financial is down 1.5 percent and Mizuho Financial is slipping more than 1 percent.
The major exporters are mixed. Mitsubishi Electric is gaining almost 1 percent and Canon is edging up 0.5 percent, while Panasonic is losing almost 2 percent and Sony is down more than 1 percent.
Among the other major gainers, Eisai is gaining almost 4 percent, while Sojitz, Japan Tobacco and Odakyu Electric Railway are adding almost 3 percent each.
Conversely, Shiseido is losing almost 5 percent.
In economic news, members of the Bank of Japan's Monetary Policy Board said that the country's economy has picked up steam, despite higher commodity prices, and it expected to continue to do so, minutes from the board's meeting on March 9 and 10 revealed on Monday.
Improved employment and household income have been primary factors in the economic recovery, the minutes continued. In terms of inflation, the board said it will continue qualitative and quantitative easing to as long as necessary to achieve the central bank's price target of 2 percent.
At the meeting, the BoJ left its ultra-loose monetary policy stance unchanged on Friday, maintaining a negative interest rate of -0.1 percent on current accounts that financial institutions maintain at the central bank.
Meanwhile, the services sector in Japan continued to expand in April, and at a faster rate, the latest survey from Jibun Bank revealed on Monday with a services PMI score of 55.4. That's up from 55.0 in March and it moves further above the boom-or-bust line of 50 that separates expansion from contraction.
In the currency market, the U.S. dollar is trading in the higher 134 yen-range on Monday.
Elsewhere in Asia, China is up 1.3 percent, while New Zealand, Hong Kong, Singapore, South Korea, Malaysia and Taiwan are higher by between 0.1 and 0.9 percent each. Indonesia is bucking the trend and is down 0.2 percent.
On Wall Street, stocks moved sharply lower higher during trading on Friday, regaining ground after trending lower over the past several sessions. The major averages all showed significant moves back to the upside, with the Dow bouncing off its lowest closing level in over a month.
The major averages pulled back off their best levels going into the close but still posted strong gains. The Dow jumped 546.64 points or 1.7 percent to 33,674.38, the Nasdaq spiked 269.01 points or 2.3 percent to 12,235.41 and the S&P 500 surged 75.03 points or 1.9 percent to 4,136.25.
The major European markets all also showed strong moves to the upside on the day. While the U.K.'s FTSE 100 Index jumped by 1.0 percent, the French CAC 40 Index and the German DAX Index surged by 1.3 percent and 1.4 percent, respectively.
Crude oil prices rose sharply on Friday on easing recession concerns in some of the world's major economies. The West Texas Intermediate Crude oil futures for June ended higher by $2.78 or 4.1 percent at $71.34 a barrel.
Source: Read Full Article