'America's Funniest Home Videos' Creator Vin Di Bona Sells Majority Stake In His Production Companies To Investor Group Led By Clarion Capital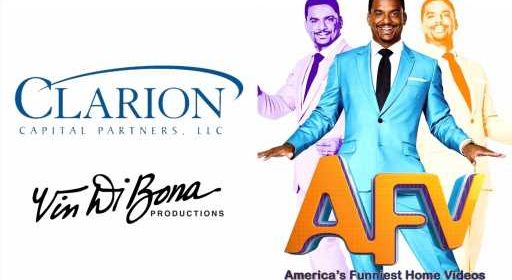 America's Funniest Home Videos creator Vin Di Bona has sold a majority stake in his eponymous production company and FishBowl Worldwide Media to an investor group led by Clarion Capital Partners.
Di Bona is remaining CEO of both companies, which will be key components of Clarion-backed entity V10 Entertainment. V10 is led by CEO John Stevens, who founded Zoo Productions and Hangar 56 Media, and President Hans Schiff, a former non-scripted agent at CAA.
Financial terms were not disclosed, but sources familiar with the transaction said it falls in the nine-figure range, a healthy sum given the currently adverse macroeconomic conditions. The official announcement of the deal said it will furnish Di Bona's companies with "access to substantial capital" with which they intend to expand on their family-friendly slates with new non-fiction traditional and digital titles. AFV, created long before today's viral video era, is now in its 33rd season on ABC, making it among the longest-running primetime entertainment shows in TV history.
Related Story
Samba TV Offloads Media Sales Assets To UK-Based Programmatic Firm MiQ, Tightens Focus On Data And Measurement Business
Clarion has previously invested in media and entertainment firms like Imax and Premiere Digital, a provider of cloud-based digital asset delivery and content optimization technology.
"Vin is one of the most successful and well-respected television producers of all time." Stevens said. "We are thrilled to have the opportunity to work alongside Vin Di Bona and his incredible team." Schiff added, "There is no greater way to transition from a 25-year career in representation to production with one of the finest producers in television."
Di Bona said as he approaches his 55th year working in television, "I can think of nothing more invigorating than beginning a bold, new page in my career path." He added, "Innovating new directions in television and media, my lifelong work, will continue as VDBP & V10 create comedy and life-reflective programs for a multitude of content-savvy viewers."
David Ragins, a managing director at Clarion, called Di Bona "a true visionary who has built a legendary television and digital production company that has been a leader for decades." Given Clarion's plan to increase its investments in video content, he added, the transaction represents "our first step in building a new leading platform in an industry known for its innovation and creativity."
Vin Di Bona Productions and FishBowl are repped by CAA.
Must Read Stories
Is Unofficial Marvel Ban Over With Upcoming 'Wakanda', 'Ant-Man & Wasp' Releases?
Sony Shopping Craig Ferguson-Hosted Late-Night Syndie Talker For Fall
Paul Feig & Sam Raimi Team On 'Suburban Hell' Adaptation for Legendary
Disney Skewers Activist Investor Nelson Peltz As Lacking "Skills And Experience"
Read More About:
Source: Read Full Article