21 companies make to Rs 1-trillion m-cap club in 2021

The Adani group has the maximum number of companies in the trillion club at five, followed by the Tata group (four).
Sundar Sethuraman reports.
The number of companies with market capitalisation (m-cap) of Rs 1 trillion or more has risen to 47 from 28 last year.
Companies that have entered the Rs 1-trillion club in 2021 include Adani Enterprises, BPCL, Dabur, Godrej Consumer, and JSW, among others.
All the firms in the trillion club last year have managed to retain their position.
Market experts said this was a natural consequence of the sustained gains in the market.
Renewed optimism about the domestic economic outlook following an improvement in high-frequency indicators, enthusiastic participation by domestic institutional and retail investors, and monetary easing by central banks of developed countries have led to gains.
Participation of public sector undertakings in the Rs 1-trillion club has strengthened with the re-entry of NTPC and BPCL, and the entry of Powergrid Corporation.
On a year-to-date basis (YTD), the BSE PSU index has gained 30.6 per cent against the Sensex's gain of 17.5 per cent.
State Bank of India and ONGC, the other two PSU firms present in the club, have seen a gain in m-cap.
SBI's m-cap has risen 49 per cent and ONGC's 24 per cent this year.
Analysts attributed the entry of PSU majors in the trillion club to investors looking for value beaten-down stocks.
"There has been bargain buying in PSU space," said G Chokkalingam, founder, Equinomics.
Some others said it was because of optimism about divestments.
Sentiment in favour of renewables and monestisation of assets helped the NTPC and Powergrid stocks.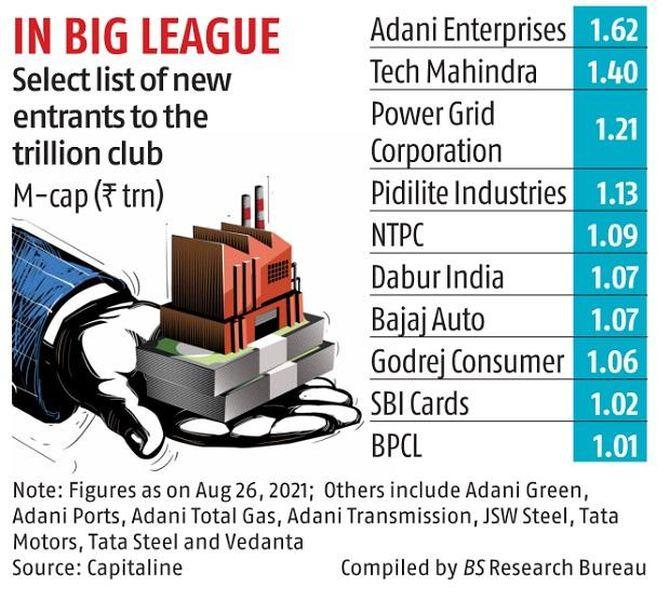 "Divestments in the last four years were through follow-on offers, and it had created some pressure in the stock prices. Now there is talk of divestment favouring strategic investors, who are giving better valuations to PSU majors," said Ambareesh Baliga, an independent analyst.
The Adani group has the maximum number of companies in the trillion club at five, followed by the Tata group (four).
TCS, Infosys, Reliance Industries, and Wipro saw a huge rise in their m-cap in absolute terms this year.
TCS added Rs 2.8 trillion, Infosys Rs 2 trillion, Reliance Industries Rs 1.7 trillion, and Wipro 1.2 trillion.
"Covid has been positive for technology businesses. IT companies saved a lot on travelling and employee costs. Their order books have been stable. Moreover, Indian investors are taking cues from the global markets. The weighting of IT companies in the S&P index has increased. Therefore, people here have also started to give a higher valuation for IT companies," said Chokkalingam.
Experts feel that the expansion of the trillion club would be limited going forward.
"We are at the peak of the bull run. No one expected pharma and IT to play out as a theme. If any new sector catches investor fancy, then Rs 1 trillion club can expand," said Chokkalingam.
Feature Presentation: Aslam Hunani/Rediff.com
Source: Read Full Article