World Market Trends At 7 A.M. ET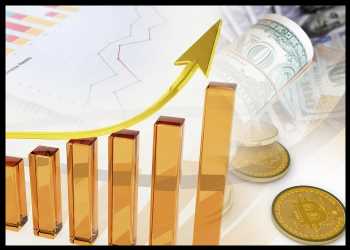 Here is a snapshot of the global markets across stocks, currencies, commodities, bonds and cryptocurrencies.
Asian stocks declined on Tuesday. European stocks too are down plagued by inflation fears. U.S. stock futures are in mildly negative territory amidst worries on fuel-fed inflation. Bond yields eased a tad. Crude prices eased slightly from multi-year highs. Dollar Index is close to the flatline at 94.32, ahead of release of the FOMC minutes on Wednesday. Gold edged up amidst the easing in bond yields. Cryptocurrencies remain firm and Bitcoin is trading near $57,200, not far from the 5-month high of $57,793.04 touched in Monday's trade.
Stock Indexes:
DJIA at 34,457.80, down 0.11%
S&P 500 at 4,358.70, down 0.06%
Germany's DAX at 15,159.30, down 0.26%
U.K.'s FTSE 100 at 7,126.87, down 0.28%
France's CAC 40 at 6,545.01, down 0.39%
Euro Stoxx 50 at 4,061.36, down 0.27%
Japan's Nikkei 225 at 28,230.61, down 0.94%
Australia's S&P ASX 200 at 7,280.70, down 0.26%
China's Shanghai Composite at 3,546.94, down 1.25%
Hong Kong's Hang Seng at 24,962.59, down 1.43%
Currencies:
EURUSD at 1.1553, up 0.02%
GBPUSD at 1.3613, up 0.13%
USDJPY at 113.34, up 0.04%
AUDUSD at 0.7377, up 0.36%
USDCAD at 1.2457, down 0.20%
Dollar Index at 94.32, up 0.01%
Commodities:
Crude Oil WTI Futures (November) at $80.47, down 0.06%
Brent Oil Futures (December) at $83.56, down 0.11%
Gold Futures (December) at $1,760.75, up 0.29%
Ten-Year Govt Bond Yields:
U.S. at 1.598%, down 0.44%
Germany at -0.1295%, down 4.44%
France at 0.206%, down 3.97%
U.K. at 1.1730%, down 1.43%
Japan at 0.090%, up 0.00%
Cryptocurrencies:
Bitcoin at $57,154.15, up 1.32%
Ethereum at $3,445.08, down 3.79%
Cardano at $2.09, down 5.73%
Binance Coin at $395.82, down 5.59%
XRP at $1.08, down 7.22%
Source: Read Full Article