ThyssenKrupp Stock Down On Weak Q1 Profit, Orders; Backs FY23 View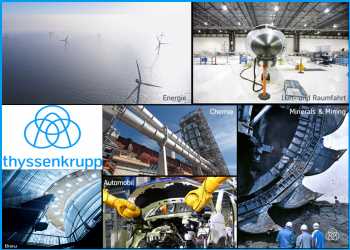 Shares of ThyssenKrupp AG were losing around 6 percent in the morning trading in Germany after the industrial engineering and steel company reported Tuesday weak profit and orders and flat revenues in its first quarter. The company also maintained its fiscal 2023 outlook, expecting lower earnings.
Klaus Keysberg, CFO of thyssenkrupp, said, "Despite the continuing uncertain environment, the first-quarter results are robust. Thanks to our restructuring and performance measures, our businesses are now far more able to deal with challenges and adapt to diverse opportunities. At the same time, there is limited visibility in respect of future economic developments."
For fiscal 2023, thyssenkrupp still expects net income to at least break even, and adjusted EBIT to decrease to a value in the mid to high three-digit million euro range, compared to prior year's 2.1 billion euros.
In fiscal 2022, the company's net income was 1.1 billion euros on sales of 41.1 billion euros and order intake of 44.3 billion euros.
For the new year, free cash flow before M&A is forecast to increase to at least break-even, compared to prior year's negative 476 million euros.
In the first quarter, ThyssenKrupp's net income attributable to shareholders of 75 million euros declined 29 percent from last year's 106 million euros. Earnings per share came to 0.12 euro, down from 0.17 euro a year ago.
EBIT fell 18 percent from the prior year to 246 million euros, and EBIT margin was 2.7 percent, down from 3.3 percent last year.
At 254 million euros, adjusted EBIT was also 33 percent below the prior-year level of 378 million euros. Adjusted EBIT margin dropped to 2.8 percent from last year's 4.2 percent.
EBITDA fell 13 percent year-over-year to 485 million euros.
Meanwhile, sales matched the prior-year level at 9.02 billion euros. Order intake of 9.18 billion euros was also down 12 percent from 10.40 billion euros in the prior-year period.
Among segments, Materials Services' sales of 3.2 billion euros dropped from last year and order intake of 3.3 billion euros fell 10 percent amid lower material prices. Adjusted EBIT was also down sharply.
Industrial Components' sales, however, improved 10 percent and order intake climbed 30 percent. Meanwhile, adjusted EBIT of the segment was below the prior-year level amid significantly higher primary material and energy costs and the competitive situation in the wind energy sector, especially in China.
Automotive Technology improved order intake by 27 percent and sales by 18 percent. The company experienced strong customer demand in the automotive original equipment business, but the supply of semiconductors remained limited. The segment also increased adjusted EBIT by 13 percent.
In the quarter, the Steel Europe business' order intake rose 22 percent, and sales increased by 10 percent despite declining shipments.
In Germany, ThyssenKrupp shares were trading at 6.62 euros, down 6 percent.
For more earnings news, earnings calendar, and earnings for stocks, visit rttnews.com.
Source: Read Full Article