Oakland Athletics Baseball Team Finally Sells Ticket for 1 BTC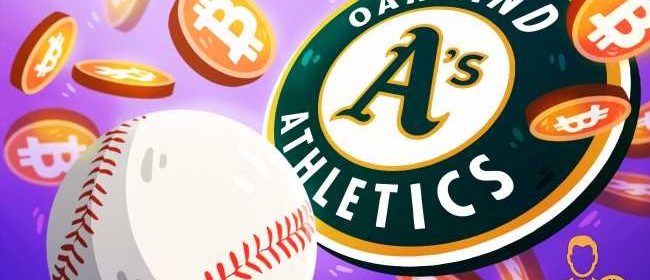 Oakland Athletics (The A's) have successfully sold a full-season suite ticket to Voyager Digital Ltd. for 1 BTC. The move makes The A's the first Major League Baseball team in the world to handle bitcoin (BTC), according to a tweet on March 31, 2021.
The A's Make History 
Oakland Athletics (The A's), an American professional Major League Baseball (MLB) club that has existed since 1901, has become the first MLB team to join the cryptocurrency bandwagon, as the club has successfully sold its coliseum suite ticket for the entire season for 1 bitcoin (BTC). 
It will be recalled that The A's announced on March 14, 2021, that its full-season coliseum suites can be purchased with 1 bitcoin until April 1, 2021. At the time, club president Dave Kaval made it clear that the offer is in commemoration of bitcoin's $61k all-time-high.
"Full season regular price: $64,800. Cryptocurrency Price: 1 BTC. Until April 1, fans can purchase a full season six-person suite for one bitcoin, " declared the team at the time.
Voyager Takes up the Offer
And just 24-hours before the official expiry of the juicy offer, Voyager Digital Ltd, (CSE: VYGR), a crypto-asset broker for both retail and institutional investors, has latched onto the offer, with bitcoin (BTC) trading at just $58,500 at the time.
While the A's took a slight loss in the deal since the exact price of its coliseum suite for the entire season is over $68k, Kaval, has however, made it clear that the team believes in the long term potential of BTC, and as such, it will hodl the 1 BTC gotten from the deal.
"We're gonna hold it. We're believers in bitcoin and hopefully, it continues to go up and maybe we can find some big free agents with some of the proceeds," he said.
Despite their super volatile nature, bitcoin and other cryptocurrencies are increasingly gaining adoption in the world of sports, the same way the nascent digital asset class is gradually making inroads into mainstream finance.
Notably, a good number of clubs in the NFL have since made cryptocurrencies a payment option for merchandise and in-stadium services, with players such as Rusell Okung, already getting paid in bitcoin.
At press time, the bitcoin (BTC) price is hovering around $58,810, with a market cap of $1.10 trillion, as seen on CoinMarketCap.
Related posts:
Source: Read Full Article